NOVEMBER 14, 2023
Piastri admits he's still behind experienced rivals
Oscar Piastri admits he still has some improving to do when it comes to looking after the tyres in Formula 1.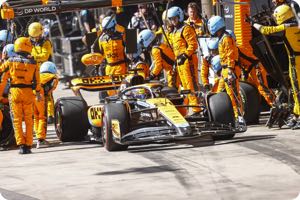 The 22-year-old rookie has impressed this year alongside the highly-rated and on-form Lando Norris at McLaren - even beating Max Verstappen in a straight fight in the Qatar sprint race.
But over a longer distance, Australian Piastri is struggling to manage his Pirelli tyre wear as well as Norris - with his struggles clearly evident across the recent triple-header series of grands prix.
The last three races were frustrating, he tells Auto Motor und Sport, but I learned a lot. The lessons will help me next year.
Team boss Andrea Stella, however, is backing the team's impressive young rookie, insisting that car damage has often affected Piastri's car aerodynamically meaning the tyres also suffered more.
But the speed is there with Oscar. The consistency is still to come.
Piastri himself says certain recent circuits have also made it more difficult for him to shine alongside his more experienced rivals.
In Formula 2 you're against people who have maybe driven the track once or twice before. Now I'm racing against guys like (Fernando) Alonso who have been to Sao Paulo 20 times in their career, he said.
Former F1 driver Ralf Schumacher insists that while Piastri is still learning, he is actually doing an incredible job as a rookie and will take the next steps.
With his sprint victory, he showed what potential he has, he told Sky Deutschland. "In the long runs over a race distance, Lando Norris has been better with his experience.
It will take a while for Piastri, but he is someone who has the potential to compete for titles in the future. I'm very sure of that, Schumacher added.
"In the future, this duo of Norris and Piastri will definitely be one of the strongest in the field. Norris is already at the highest level; Piastri certainly needs another year or two.
But as a rookie, he is already at an incredible level.
(GMM)