NOVEMBER 14, 2023
Mercedes off-target for 2024 title push says Surer
Toto Wolff powered plenty of raised eyebrows in the Interlagos paddock recently by declaring that it had been Mercedes' "worst weekend in 13 years".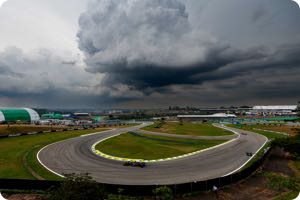 His extraordinary criticism of his own team's progress had followed a wave of optimism within the Brackley based team, with a late-season floor development propelling Lewis Hamilton to back-to-back second places.
Then it all collapsed spectacularly in Brazil.
Performance oscillations exist, Wolff admitted, but the oscillations do not go from being almost the fastest to being where we finished.
Ahead of Las Vegas, however, Wolff sounds more upbeat, claiming engineers have discovered the fundamental setup problems. We understand our mistakes and can explain our poor performance, said the team boss and co-owner.
Former F1 driver Marc Surer, however, says he can't explain exactly why Wolff had been quite so downbeat after Brazil.
If I remember correctly, Mercedes has had even worse races than that in recent years, he told formel1.de. Maybe that was just the worst weekend for him because of the expectations, as Mercedes won there last year.
The up-and-down nature of the entire F1 pecking order has been notable in 2023, Surer said.
Only Red Bull and McLaren can be found consistently at the front now, the Swiss explained. "We saw in Brazil that Aston Martin was suddenly right there again.
I think there are simply circuits where teams run well and other circuits where the same teams do not run well. Only Red Bull and McLaren do not seem to have these weaknesses.
However, he thinks the situation shows that the 'ground effect' regulations are actually working well.
Before, if you were three tenths short, you lost one place. Now it's ten places, said Surer. That's why it looks so bad.
As for Mercedes, however, he thinks he knows why Wolff was so downbeat after Brazil - because it very much implies that Lewis Hamilton's quest for a record eighth drivers title has hit a clear roadblock.
Even with a more competitive car, Surer argues, the 2024 drivers' title seems unlikely.
George Russell is now at the same level as Hamilton, he said, "so if they are both fighting for the title, Red Bull will still have an easier time. Because Red Bull only has one driver who can really go for the title.
So Mercedes really needs a super car if Hamilton wants to be champion again.
(GMM)