NOVEMBER 14, 2023
Hulkenberg abandons Haas flop B car for Vegas
Nico Hulkenberg will not be at the wheel of Haas' 'B'-spec car this weekend in Las Vegas.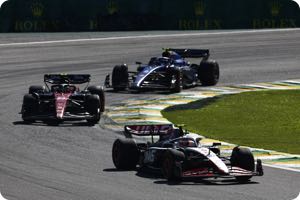 The German has impressed on his return to Formula 1 this year, but he has actually been critical of his own team's struggles to up its game with a highly-anticipated major car upgrade that was introduced in Austin.
It's not a clear step forward, he admitted last time out in Brazil. We understand that now and we know it.
Teammate Kevin Magnussen, on the other hand, has been cautiously happier with the 'B' car - although the Dane does admit that the improvements he can feel are minor.
They don't solve any problems on their own, said Magnussen. "But at least it's something.
We'll have to wait and see next season, because then we really want to make progress. We hope that we can then take a big step in the right direction.
Magnussen will at least still be at the wheel of the 'B' car this weekend in Las Vegas - unlike 36-year-old Hulkenberg.
Team boss Gunther Steiner confirmed that Hulkenberg will be driving the old specification 2023 car, while Magnussen races down the fabled 'Strip' in the new one.
The main drive behind this was Nico feels that for him the old spec suits him better, and Kevin is the opposite, Steiner said.
We've opted to give them what they want. We have two races to go and nothing to lose, so we've tried to do what we can.
Aston Martin essentially sacrificed a couple of races recently when it hit a snag with its own latest car upgrades, regularly starting from the pitlane to collect data with experimental setups to get to the bottom of the problems.
Steiner says Haas will not take a similar approach.
We could discuss gathering data, but we've got enough data, he said. "It's a decision based on what each driver likes more than anything else.
It puts them in a comfortable position so that they're as happy as they can be with the car they get.
Haas is currently dead last in the constructors' standings, and the 'B' car was an attempt to solve the desperate problem of extremely excessive tyre wear.
Track temperatures in Las Vegas is expected to be extraordinarily cold for the late-night sessions, so is Haas worried about the problems becoming even worse this weekend?
It depends also a lot on the asphalt, said Steiner. It's a combination of temperature and roughness of asphalt, but I don't think degradation can get much worse for us than in Brazil.
(GMM)