NOVEMBER 14, 2023
Liberty issues public apology for Las Vegas F1 chaos
Greg Maffei, the CEO in charge of Formula 1's owner, has taken the extraordinary step of issuing an apology in the days before Liberty Media's new blue-riband event.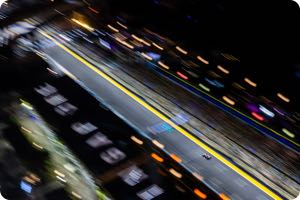 The company, via its ownership of F1 commercial rights entity Formula One Management, has invested hundreds of millions of dollars into the Las Vegas GP.
World champion Max Verstappen, however, says he's lukewarm.
I think we're going there more for the show than for the racing, especially when you look at the layout of the track, he told the Dutch magazine Formule 1.
Indeed, the cars will race down the iconic 'Strip', the incredible 'Sphere' venue has been rented out by Liberty at a huge cost, while teams intend to use the golden opportunity for supercharged marketing.
We're just blowing everything out of the park that we've previously done, Mercedes boss Toto Wolff says. We have a big building that we call Las Vegas Club where we're going to host over multiple levels, hopefully Las Vegas-worthy entertainment for our guests.
Verstappen, though, continued: "You know I'm not keen on any of this. I just say to myself 'Go there, do what you have to do, and get out of there as quickly as possible'.
Other than that, I don't spend much time on it.
Las Vegas locals, meanwhile, have been scathing about the disruption to their lives caused by preparations for the event so far, while disgruntled hospitality workers are even planning a strike.
And even Liberty's predicted soaring demand for incredibly-priced tickets, hospitality and entertainment has fallen way below expectations.
Tickets are still available, hotel prices on the legendary strip have fallen significantly, and all signs suggest that race promoter Liberty has grossly overestimated the ability to get people to fill the stands, the La Presse newspaper declared.
The report added that some ticket prices have been slashed by 60 percent, as have the exorbitant fees initially charged to local traders close to the circuit.
Information had even circulated about the deliberate erection of structures blocking the view in front of certain recalcitrant businesses, La Presse continued.
As a result of all of this, Liberty Media CEO Maffei has taken the extraordinary step of issuing a public apology to Las Vegas, particularly about the extreme costs charged to vendors and the public.
A lot of that comes from, you know, frankly, costs that are not entirely ours, he told Fox 5 Vegas.
I'm not begrudging our partners, but, you know, five-night minimums in hotels and things like that helped push up the costs. Not all of it's just the pricing of the tickets.
As for the disruption to locals, on the other hand, Maffei added: "I want to apologise to all the Las Vegas residents and we appreciate that they have their forbearance and their willingness to tolerate us.
"We're going to bring something like $1.7 billion of revenue to the area. So it's not just for the benefit of fans who want to view. We hope this is a great economic benefit in Las Vegas.
We hope this is the most difficult year with all the construction that went on and things will be easier in the future, the Liberty chief added.
(GMM)