NOVEMBER 13, 2023
Andretti's father cannot understand F1 rejection
As Formula 1 returns to the US this week to race at the highly-anticipated Las Vegas GP, Michael Andretti's famous father says he "cannot understand" why the sport is opposed to a new American team backed by carmaker giant General Motors.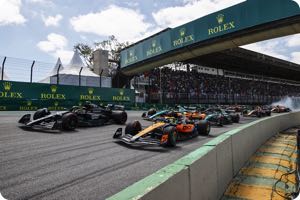 While the FIA has green-lit the Andretti-Cadillac bid, the deal is current stalled amid commercial talks with an unenthusiastic F1 owner Liberty Media - and similarly-opposed existing F1 teams.
I can't understand that, Mario Andretti, the 1978 world champion who is now 83, told F1 Maximaal.
I don't know whether it's wise to be happy with only 20 cars on the grid, if you look at the future and the increasing ambitions of Formula 1 given its popularity.
The Italian-born American thinks the existing 10 teams are behaving very selfishly, which is nothing new.
But the management of a racing series must always look at the big picture, Andretti insisted.
He points out that Andretti-Cadillac is bringing a new manufacturer who has never been in Formula 1 with us, and that must be worth something.
Everyone I speak to thinks the same way, so we are doing our best to check all the boxes. We're not looking for favours, we just want to do whatever is asked of us.
Some think Liberty Media is simply stalling long enough to prevent Andretti from being literally unable to enter Formula 1 in time for its 2025 target.
That is currently the plan, but time is of the essence, Andretti warned. We are as ready as possible on all fronts and we are also in suspense.
The question now is whether Michael Andretti can negotiate through the current minefield, with his father admitting F1 is obviously more political than Indycar or Formula E.
Each discipline has different goals and different rules, so it is difficult to compare, Mario said, but Formula 1 has not exactly given us a warm welcome so far.
For instance, he says that even Red Bull is opposed to Andretti-Cadillac, even if its boss Christian Horner sings a different tune behind the scenes.
When I talk to him, he has few objections, Andretti revealed. "We are friends with the team.
I know Adrian Newey, because I worked with him, and I thought they'd be the last people to object, but it's sometimes hard to explain why people say the things they say. But we have to look past that, he added.
(GMM)