SEPTEMBER 4, 2023
Verstappen can win every other race in 2023 says Marko
Max Verstappen was "quite nervous" on Sunday before securing his tenth consecutive Formula 1 race win - an outright record in the sport's history.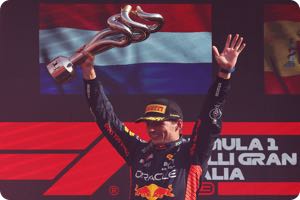 That is the claim of Dr Helmut Marko, although Dutchman Verstappen smiled in response: I wasn't nervous.
But after the chequered flag, Red Bull's Marko had claimed: "Max was relatively nervous before this tenth win, where normally he isn't.
The record means a lot to Max so I hope that has now been resolved because I don't think ten wins is the end either.
According to Mercedes' Toto Wolff, however, ten race wins on the trot is nothing special to celebrate.
I don't know if Max cares about these records because it wouldn't be important to me. It's something for Wikipedia and no one reads that.
Wolff's comments come after Lewis Hamilton suggested Verstappen is having an easier time dominating because his Red Bull teammates are not on his level.
Our situation was slightly different, said the Mercedes boss, because we had two drivers within the team who competed against each other.
Verstappen at Monza had dismissed that kind of talk as jealousy, especially as Marko thinks the 25-year-old could go completely unbeaten for the rest of the season.
A technical problem can hinder us or a crash or something like that, but nothing else can, said the 80-year-old Austrian at Monza.
Max has never won in Singapore so he will want to do that, and if he can win there too, I am optimistic that we can win the rest of the races as well.
Marko admits that Verstappen's only real scare on Sunday was some engine overheating.
We had to pay a little attention to that, especially as Carlos Sainz was fighting so hard.
Indeed, Sainz put up a strong fight as Ferrari bounced back from its dire pace just a week ago at Zandvoort, with team boss Frederic Vasseur insisting: "At least we could fight with them.
They were a bit faster, but we kept up well - it was maybe a tenth or two off.
Top Ferrari engineer Jock Clear says Sunday's result is good news for the Maranello team.
The parts we developed for Monza worked exactly as expected, showing that we understand how the car works.
And unlike Wolff, Vasseur was not shy to compliment Verstappen's new F1 record.
It's not just about the last ten races, said the Frenchman. "I don't think he's made a single mistake in the last two years. Although of course it's easier not to make a mistake when you're in the best car.
But we saw today how he handled the situation of immense pressure from Carlos. He knew he had a pace advantage so he just waited and waited.
Famous former Ferrari driver Jean Alesi also hailed Verstappen's achievement.
Winning two in a row is already difficult in Formula 1, he smiled. "We are not just talking about the best car, but also about the best driver.
"I remember from my time when Williams were lapping cars after 15 laps, but that kind of dominance is really out of the question now, isn't it?
The competition is very strong. Everyone is close to each other, except for one: Max.
Fernando Alonso agrees: He's the best in qualifying, he's the best in the race, he's the best in the duels. They're just incredible together.
(GMM)