Italian GP 2023
SEPTEMBER 4, 2023
Race Analysis - Max Verstappen takes record win in Italy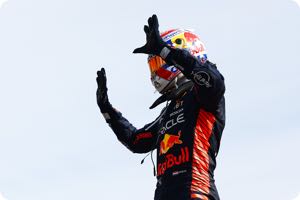 By Peter Habicht
Max Verstappen took a record setting tenth consecutive win for Red Bull-Honda in a 1-2 for the team as Sergio Perez battled with the Ferraris of Carlos Sainz and Charles Leclerc who took third and fourth behind the Austrian team.
Verstappen said, "10 wins in a row is a record I am very happy about; it is something you don't even think about trying to achieve, because it is very unlikely that those kinds of things happen. I had to be patient today to get the win, Ferrari had a lot of top speed all weekend and I think when you look at our rear wing we had to trim down our top flap, so our DRS the whole weekend wasn't as effective as normal. That meant we could never have a good run down into turn one, so I had to be patient and force Carlos into a mistake."
It was Red Bull's 15th consecutive team win and a new Formula 1 record.
Carlos Sainz took driver of the day as he managed an early lead from pole ahead of the quicker Verstappen for 15 laps until the Dutchman's pressure was too much for the Spaniard. Verstappen then took a lead from which he never looked back.
A dramatic battle with teammate Charles Leclerc saw Sainz manage tires and position well in the closing laps, even as a last lap tussle brought the pair within inches as Leclerc locked up into turn one where high speeds and confidence put braking to the test for overtaking.
Sainz shared his thoughts after the race, "Its a great feeling and I think we deserve it after a very good weekend, well executed race, perfect qualifying yesterday . The podium is I think the least we deserved this weekend… at some point it was quite tricky to get it. I was having to push a lot in the early stints to keep the Red Bulls behind and that was costing me tyre deg and pace at the end of the stints, but I think today was the day to try and keep the Red Bull behind which I did for some time and I had fun with it… First came the battle with Max and that obviously made me use a lot of tyres on the medium tire and then I had to box earlier than I would have liked and then came the battle with Checo… then the battle with Charles. In the end it was a day to try everything and I think I did. It was nice fair clean battles and it was a good day for F1 and also for me."
Leclerc was also upbeat after the race: "At the end we were both on the limit, Carlos was at the limit defending and sometimes he was moving a bit under braking, which I was struggling with, but I was also very aggressive on trying to attack him so we were both on the limit, but honestly I had a lot of fun. We've had a lot of battles in the past … and this is what F1 should be, so it was a really enjoyable race."
From the Red Bull side, Perez had been charged with overtaking the pair mid-race, "It was super hard to get through [the Ferraris] but I just gave it my all. Overtaking was super hard today … with the DRS not doing much. If I was not two tenths (quicker) out of Parabolica, I had no options at all. Ferrari were very strong in a straight line and the battles were on the limit but fair."
Mercedes battled well to finish behind the hometown favorites, with George Russell managing to hold off Perez in the early laps while teammate Lewis Hamilton battled in the midfield after starting from ninth. A medium compound tyre in Lewis' final stint to gain several places put enough gap behind him to keep his position after making contact with McLaren's Oscar Piastri with ten laps to go and receiving a five second penalty.
Williams' Alex Albon continued his streak of strong finishes taking seventh for Williams, battling hard on aging tires with McLaren's Lando Norris. Aston Martin's Fernando Alonso took ninth behind them with Valtteri Bottas finishing behind the Spaniard. Despite making contact with Williams' Logan Sargeant in the closing laps, Bottas finished in tenth to take the last point for Alfa Romeo. Sargeant received a five second penalty and two penalty points on his super license as a result. Rookie Liam Lawson performed well to finish 11th in just his second race for AlphaTauri.
Lawson teammate Yuki Tsunoda did not start after smoke began to pour out of the car on the formation lap. A second formation lap and standing start meant teams came running back out onto the grid for a delayed start to the race.
McLaren rookie Oscar Piastri took 12th, receiving a five second penalty after coming into contact with Lawson, with Sargeant finishing 13th. Alfa Romeo's Guanyu Zhou took 14th ahead of Alpine's Pierre Gasly, whose teammate Esteban Ocon retired on lap 41 with vibrations in his steering. Aston's Lance Stroll was followed by the Haas drivers Nico Hulkenberg and Kevin Magnussen.
Formula 1 races next under the lights in Singapore in two weeks, 15-17 September.