SEPTEMBER 4, 2023
Perez admits he may need to seek Red Bull alternatives
Sergio Perez has admitted that, even with a sealed 2024 contract in his pocket, there remains a possibility that he will have to look around for a new team.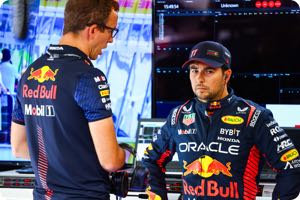 The Mexican has been warned by Red Bull's Dr Helmut Marko that, given his recent performance slump, he has no firm job guarantee even for next season.
Marko, though, says the 33-year-old Mexican is now starting to bounce back.
Every year you learn things and that's why I like this sport so much, Perez told the Spanish-language DAZN broadcaster at Monza.
"You're learning things all the time, but most important of all is learning from your mistakes.
With the season we've had, the next few races are about creating a situation where I feel I can contribute. And if that place for 2024 is not here, we will have to look around for other alternatives, he admitted.
But right now, my main focus is to be here, to win more races, to continue winning championships with Red Bull. I have a contract until next year and sometime next year we will sit down and talk, he added.
I do think the bad moments are behind us now and I feel much more comfortable with the car, Perez said after finishing on the podium at Monza.
"I think we are going to have a good end to the year. I have gotten quite close to Max but I think at the moment he is on fire with the car and I have not been.
Every weekend it's hard for me to get there, but without a doubt I've gotten pretty close. And I hope that in the next races I can be at that level.
Perez admits that serving as teammate to a driver in Verstappen's level of form is not easy.
There are hard moments because it is not easy to be in this environment under all this pressure, he said. "Being Max's teammate is not easy, but it is important to remember to enjoy the journey, enjoy the moments.
"I can give my best and that's all I can control. And that's what I'm doing. Max is driving at a level that I haven't seen in F1 since I've been here.
"He doesn't make mistakes, and he really pushes the limit all the time. So that's the main difference - he's been able to maintain his level all the time and I have not been able to. As the car has evolved it has cost me more.
"When the improvements have come, I had to think too much as I was driving, and when you're doing that it's of course not as easy as when you're on automatic with your car.
It's been a lot of work for me in the last races, he admits.
(GMM)