NOVEMBER 4, 2023
Sprint shakeup heading to next F1 Commission
Formula 1 looks set to go ahead and shake up the 'sprint' weekend format for 2024.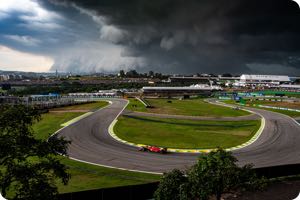 Although intended to give spectators more action, the single practice session, qualifying for Sunday's race occurring on Friday, 'sprint shootout' qualifying and a short race on Saturday are not universally loved.
Yeah, it's been absolutely fantastic, world champion Verstappen said sarcastically at Interlagos when asked about the format he clearly hates.
So much fun.
Mercedes boss Toto Wolff thinks the biggest problem is that the current format is too confusing - but the single hour of practice has also caused problems.
Should we increase that session by 30 minutes? the Austrian wonders.
Wolff says it's all currently being discussed with F1 CEO Stefano Domenicali, including reshuffling the other sprint weekend sessions to make it more logical for the casual fan.
Even I get confused and don't immediately remember which session is next, he admitted.
At the end of the day I think we all have the same goal. Personally, I often say that I don't like these weekends at all, but if they make sense because they're good for the audience, then we should do them.
However, there are some wilder ideas floating around at present about a more substantial sprint shake-up - perhaps including $1m prizes for the sprint winners, a separate sprint championship, and even reverse grids.
Yeah I wouldn't mind, said Ferrari's Carlos Sainz when asked about reverse grids.
"I agree that Saturday is too revealing of what's going to happen on Sunday. It's basically the first stint of the race on Sunday. So you arrive at the point of trying something else.
Is that reverse grids? Is that single lap qualifying? I don't know, but I think given that the sprint format is a bit of an experiment going on right now in Formula 1, I would be open to keep experimenting to see which format is best, he added.
The matter is currently being discussed between the teams and Domenicali ahead of the next meeting of the decision-making F1 Commission.
There is a discussion going on in the Formula 1 Commission, confirmed Alpha Tauri CEO Peter Bayer.
I think the sprint product has brought a lot to F1 overall, he told Sky Deutschland. "In the end, the spectators get more for their money.
"The topic is the structure of those weekends. Can we bring back the traditional format with qualifying on Saturday afternoon and the race on Sunday?
"There is an idea that you do the sprint on Saturday morning and then qualify for the main race in the afternoon. But then there's the parc ferme problem of not being allowed to work on the car.
So there is need for discussion and a desire for it, Bayer added. "We all have to actively participate in this.
We have the next Formula 1 Commission in Abu Dhabi, and this will be on the agenda.
(GMM)