Brazilian GP 2023
NOVEMBER 4, 2023
Sprint Race Report - Verstappen wins sprint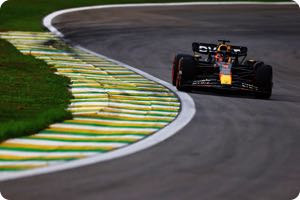 By Mark Karp
The drivers lined up for the final sprint race of the season with Lando Norris on pole. The Red Bull's of Verstappen and Perez were second and third, Russell and Hamilton fourth and fifth, Tsunoda sixth, Leclerc seventh, Ricciardo eighth, Sainz ninth and Piastri rounding out the top ten.
The field came around to the grid, the lights went out, and the 24-lap sprint race began with Norris on pole bt Verstappen drawing alongside on the inside of turn one to take the lead.
At turn 4 Hamilton goes around the outside of Perez to take fourth. Later in the lap Russell passes Norris for second.
Verstappen leads Russell, Norris, Hamilton, Perez, Leclerc, Tsunoda and Sainz.
On the start of lap 4 Perez passes Hamilton for fourth
At the start of lap 5 Norris passes Russell for second.
On lap 6 Alonso passes Magnussen for 12th.
Albon reports that oil is coming from Bottas.
On lap 8 Perez passes Russell into turn 1 for third, but Russell comes back in the DRS into turn 4 to retake the position.
On lap 10 Perez passes Russel for third once again.
On lap 12 Ricciardo passes Sainz for eight, but down the hill Sainz retakes the position.
At lap 13 Verstappen leads Norris by 1.2 seconds.
A line of cars followed Sainz.
On lap 14 Ricciardo once again tries to take Sainz, but Sainz stays ahead. Piastri passes Ricciardo for ninth,
Alonso passes Gasly for 11th.
On lap 18 Stroll passes Gasly for 12th.
On lap 21 Leclerc passes Hamilton for fifth place. Hamilton is struggling with his tyres and Tsunoda passes him the next lap for sixth.
Ricciardo passes Piastri for ninth.
On lap 24 Alonso passes Piasri for tenth, but Piastri comes back and retakes the position.
Verstappen wins 4.287 seconds ahead of Norris.
Perez (13.617s) finished third, Russell (25.879s) fourth, Leclerc (28.560s) fifth, Tsunoda (29.210s) sixth, Hamilton (34.726s) seventh, Sainz (35.106s) eighth, Ricciardp (35.303s) ninth and Piastri (38.218s) in tenth.