Brazilian GP 2023
NOVEMBER 4, 2023
Saturday Team Quotes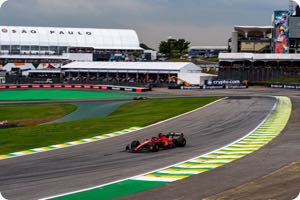 Oracle Red Bull Racing
Max Verstappen (1st): "Ultimately, I am happy with how we managed the tyres and we have had some successful Sprint races this year, which is positive. The start was key for us today: it was good to get the lead into turn one and it was important to keep the first few laps under control. Tyre management is incredibly difficult here because of the high degradation and I really had to look after them right from the beginning of the race. You can't go flat out as it is a very long stint on the tyres, so you do need to pick your moments. Ultimately, I am happy with how we managed the tyres and we have had some successful Sprint races this year, which is positive. We will all learn a lot from today. Lando was also very close to me for the duration of the race so I expect it will be an even closer result tomorrow."
Sergio Perez (3rd): "We would have liked to have had a better start and have been in contention for first. It is definitely a good result, but I would have liked to have had a better start and have been in contention for first. We had a terrible start and first lap, losing position to both Mercedes so that meant things were not as we wanted, we had to push hard and I had to make use of my tyres early on, so I ended up paying the price later on in the race. Tomorrow is the main race, and everyone is going to learn from the Sprint, we expect a very high tyre deg, so everything is going to suffer, the engine, the brakes… It will be all about looking after the tyres, it will be a long race with a lot of competition but the race pace of the car should be good and the podium is my target."
Christian Horner, Sporting Director: "Checo had a very strong drive. It was good racing, he had great pace. It was a very well executed race today. Max got a great start, allowing him to make that crucial pass into the first corner and then it was an exercise in managing his tyres. It's a long stint on those soft tyres and he did well with them, enabling him to finish the race as he did. Equally, Checo had a very strong drive. It was good racing, he had great pace, passing those two Mercedes and making his way through the pack; well deserved points for him today. It sets us up well for tomorrow. Checo will take a lot out of today. He's starting a bit out of position but he has great pace so we look forward to seeing how it plays out."
Scuderia Ferrari
Charles Leclerc (5th): "We did a good job today and there was not much more on the cards. Not using new tyres for qualifying, preferring to keep them for the GP on Sunday, we knew we would be on the back foot for the Sprint. We did well anyway, finishing in P5 and getting ahead of Lewis (Hamilton), who qualified on a new set of Softs this morning. They are our main competitors for this year so it's a good sign to be able to fight with them."
Carlos Sainz (8th): "Today we suffered more than expected in the Sprint. Our main limitation came from having to manage the engine temperatures and the tyres. This implied a lot of lift and coast from very early on in the race, which obviously affected our overall performance. However, I'm confident that tomorrow it will be better and that we'll be able to push the car and the tyres more to recover some positions."
Frédéric Vasseur, Team Principal: "We decided to partially sacrifice today's race, with a view to being in better shape for the Grand Prix, so we will have to wait and see if we have played our cards right. We didn't use new tyres in this morning's qualifying, so tomorrow Charles will have one set of new Softs, Carlos will have one that's just done two laps and they will both have two sets of new Mediums. Therefore, I'd say that today overall, we got the best result we could have done, bringing home important points and that was mainly down to excellent tyre management and Charles' pass on Lewis (Hamilton) towards the end. The good job this afternoon will be analysed carefully and we will try and be even better prepared for tomorrow when we start with Charles on the front row and Carlos all set to race aggressively."
Mercedes-AMG Petronas F1 Team
George Russell (4th): "I had a good first lap but after that, it was a struggle. We expected the tyre degradation to be less than it turned out to be. We certainly didn't expect to be outright quickest, but we were surprised by the pace delta to those ahead. That all came down to the tyres. Sometimes we seem to be able to get them to work, other times we struggle. It's a shame but we clearly got it wrong today where others didn't. We need to rectify that for tomorrow. The track will be a little bit cooler on Sunday which may swing things more into our favour. We will obviously learn things from today too and make some changes. It's likely to be at least a two-stop race, but I'm not as optimistic heading into tomorrow's Grand Prix as I was this morning."
Lewis Hamilton (7th): "That was not an enjoyable race. We made a good start and managed to gain a position on Sergio Perez. After that though, we really struggled with the balance. We had a lot of understeer, then snap oversteer, and I was fighting the car from very early on. By the closing stages, I had run out of grip on the tyres, and I can only assume that we got the setup wrong. We will need to find a way to make some changes for tomorrow. I suspect it will be a long afternoon if we aren't able to make improvements. I will of course be fighting as hard as I can, and trying to manage the tyres a bit better than we were able to today."
Toto Wolff, Team Principal: "That was a difficult day. We pushed very hard at the beginning of the race, and we suffered from that in the later stages. The car was not balanced optimally, with the rear end not strong enough to live with the front. You're having to drive the car on a knife's edge but it's almost impossible to do so. Both drivers were trying to hold on to the pace, but we didn't give them a car to do that today. They were both subsequently sliding around a lot more than they would want and that killed the tyres. We need to go away this evening and work through what we can do to improve it for tomorrow. There are no easy fixes, but we will do everything that we can."
Andrew Shovlin: "That was not a good race for us today. We likely pushed a bit too hard early on and it took a few laps to realise that we simply didn't have the pace to race for a top three position. That hurt the tyres and caused us to suffer from high levels of tyre degradation in the closing stages. We know that we've got what we've got in terms of the setup and that there are only a few tools to play with to make improvements. We therefore know that making a big step in performance for tomorrow is out of the question. However, there are a few things we can use to balance the car and there's clearly a bit to learn about how we use the tyres across the stint. It might be a little cooler tomorrow and that could help; not so much that the tyres will be in a drastically different operating window though. It's therefore imperative we can make progress overnight if we're to avoid another tough race on Sunday."
BWT Alpine F1 Team
Pierre Gasly (13th): "There is not much to report from today after starting from thirteenth and finishing in thirteenth. I made a good start, managed to overtake two cars, and then we were in the chasing pack for the lower end of the points. I tried to stay in that group but then it became more difficult towards the end of the race particularly with rear grip and overheating tyres. I had some fun fighting Fernando [Alonso] with some fair racing, just not for the points-scoring positions. We can learn a couple of things ahead of tomorrow's race. It could be an interesting one and we will aim to identify a good strategy to put ourselves in contention to score some points."
Esteban Ocon (14th): "First of all I want to give a big shout out to the entire team in the garage for their heroic work on the car to get it ready in time for the Sprint Race. They had to replace pretty much everything other than the engine and the chassis so a big well done and thank you to them. After the unfortunate incident in the Shootout, we started sixteenth today so we gained a couple of places during what was a tough but straightforward race. We had a couple of good overtakes but perhaps lacked the speed compared to the Astons, who are quick here. We now shift our focus to tomorrow where we'll need to fight our way back up to the points to finish the weekend on a high."
McLaren F1 Team
Lando Norris (2nd): "It was good fun today. My initial start was good but the second phase of the launch was maybe a little bit on the safe side. These are things to improve for tomorrow but nevertheless the pace was strong as we got into the race. I tried to go after Max – but just didn't have enough. I'm encouraged with how good our pace was today. We didn't expect to be fighting Max at a track which doesn't suit our car as much, so overall I'm pleased with my performance today. Tomorrow I'll try to work my way through the field again and work hard to secure good points for the team."
Oscar Piastri (10th): "P10 today, there was some good racing out there but I struggled with tyre degradation from all the battling. Other than that, it was a fun race around a good circuit. We managed to get some important learning done ahead of tomorrow which will certainly help us in the Grand Prix. We'll work to see what we can do in the race and hope to score positive points."
Andrea Stella, Team Principal: "A strong result for our team with a P2 in the Sprint race in Brazil. It's important for the entire team after a qualifying session yesterday in which we didn't capitalise on the potential of the car in Q3. Instead, today, the result was strong, with a pole position and a second position finish on Lando's side. We have also shown decent competitiveness compared to Verstappen, which, in a way, is a good surprise. Starting P10 with Oscar, it was always going to be difficult to score points, and we have to remember this was the first long run ever for Oscar in Brazil. Nevertheless, we got very useful information to help us prepare for tomorrow's Grand Prix. We'll aim for a strong race and look to progress through the field and score good points with both drivers."
Alfa Romeo F1 Team Stake
Guanyu Zhou (17th): "We made an improvement in terms of pace compared to yesterday and this morning, and we were a bit closer to our direct competitors – even if not quick enough yet to make the step up we needed. Unfortunately, I got stuck in a DRS train for most of the Sprint, and I was only able to put up a fight and gain a few positions in the closing laps. Looking ahead to tomorrow, there is still all to play for; the weekend has unfortunately been quite tricky for us so far, and starting from the back of the grid is, of course, not ideal. Still, we'll be looking into the data gathered from the track today, in order to find that extra step of performance and maximise what we can get. We saw in the Sprint that there can be a lot of battles around here, and we are determined to get stuck in during the race."
Valtteri Bottas (19th): "It's been a difficult day in which we didn't have the pace we expected, especially towards the end of the Sprint, and it was very challenging not to slide around in the corners and overheat the tyres. It seemed our difficulties were very specific to today's conditions, and I really hope tomorrow's expected cooler temperatures will help us improve. My race was compromised at the start – I tried to make some gains, but got squeezed out at turn two and that cost me all momentum on the straight. We had to roll the dice in the first couple of corners, but it didn't pay off: afterwards, it was quite a frustrating race, which felt much longer than 24 laps. Still, we don't drop our head, we will try again tomorrow: everything can happen in Brazil and we need to give it our all."
Alessandro Alunni Bravi, Team Representative: "Every day, in every race, there is something to learn, and today's lesson was a tough one to take in for the entire team. We must look at the reality around us: our direct competitors are faster than us at the moment, and we haven't been able to deliver so far this weekend. Both our drivers found themselves stuck in a DRS train for most of the race, and were struggling to either attack or defend. As our main opponents made a further step in the standings, things do seem difficult for us right now. It is not the time to lose confidence, though: from tomorrow's main event, and for the next two races, all of us trackside, our drivers, and the team back at base, we must give all we have to finish our season in the position we deserve."
Aston Martin Aramco Cognizant F1 Team
Fernando Alonso (11th): "It was a fun Sprint today with a lot of wheel-to-wheel racing. Unfortunately, we didn't score any points after climbing a few positions, but the car felt competitive so that is a good sign for tomorrow. We've felt more competitive this weekend and it's going in the right direction. It will be close in the race tomorrow and we know there are a number of fast cars around us, so let's see if we can score some big points."
Lance Stroll (12th): "That was a fun race. We didn't get a break in qualifying this morning, and I feel we started out of position, but then we could overtake a lot of cars this afternoon. The car really felt good today; it felt like I was always able to attack the cars in front. We also learnt quite a lot about the car, balance and the tyres – all things we can take into tomorrow's race, and we'll start from a much better position. All credit to everybody in the team for working so hard to get the car into this position. Tomorrow's race will be long and unpredictable, but I think we can have some fun out there."
Mike Krack, Chief Operating Officer: "Both cars showed competitive pace in this afternoon's Sprint. The Soft tyre was the obvious choice today and Fernando and Lance did a good job of managing their pace and looking after the tyres. That helped them make some strong overtaking moves in the final phase of the race, which I am sure was very entertaining for the fans. Given our starting positions for the Sprint [P15 and P17], it was always going to be a stretch to recover to the points-paying positions, but today's mileage will be helpful for optimising our long-run pace ahead of tomorrow's Grand Prix."
Haas F1 Team
Kevin Magnussen (16th): "I think the way we saw this race, being on the same tire as everyone else meant we weren't going to get into the top eight, and we want points. We took a big risk, I didn't quite expect everyone else to be on the softs, as only one Williams was also on mediums. We rolled the dice and tried something different to score points. We always learn but there's nothing we can change on the car now, but at least we got a feeling on the medium tire and a good look at everyone else on the soft."
Nico Hulkenberg (18th): "I don't think it would've mattered which tire we started on, at the end of the day our performance is too poor. We're missing downforce compared to the others and we're always going to pay the price for that. It's not looking great for tomorrow, we can't change anything overnight as we're under parc ferme, so it's not the best outlook."
Guenther Steiner, Team Principal: "It's a very disappointing result, starting P11 and P12 and finishing where we finished, it's not good enough. We have this tire degradation, and it just seems that we can't get it under control. We need to keep working on it as there's no way out of this without a lot of effort. Tomorrow is going to be another tough day."
Scuderia AlphaTauri
Yuki Tsunoda (6th): "First of all, a big congrats to the team! Yesterday wasn't our day, but together, we made a big comeback today. Qualifying P16 yesterday for the Grand Prix and P6 today for the Sprint race shows a big step in the right direction. The car was fun to drive, but we have to understand why there was such a difference between yesterday and today. There were a couple of places where I could improve my driving, and I think the last lap in SQ3 was my best lap so far, which allowed me to start in a good position for the Sprint race. We maximised our opportunity, finishing P6, which is the highest position so far this season. With a couple more laps, I might've been able to fight for P5 with Leclerc ahead of us. I'm happy with my race craft today, and the pace the car had, especially in the race, was strong. Daniel also had good pace, so it was a big team effort. Well done to the team because, without their hard work, I wouldn't have been in that position. Now I'm looking forward to racing again tomorrow. We're in a good rhythm now, so we'll build on it and bring even more performance into tomorrow. It won't be easy because we're starting further back, but we know our car is good, so we'll overtake as much as possible, with points being possible."
Daniel Ricciardo (9th): "Today felt a lot better, and what I felt was possible yesterday. Looking back, my qualifying lap yesterday was mostly my fault because I didn't make it count when it needed to. On the medium tyre, especially in SQ2, it was going really well, and I was very happy with that lap. On the soft compound, I struggled in Turn 1 and 2 again, though not as much as yesterday, and I was a little disappointed with my final lap. As a team, P6 and P8 is a good result for us. The Sprint race certainly wasn't boring. On one hand, it was nice to be in a battle, and I had fun out there, but I'm also really frustrated. As we showed this morning by having both cars in the top 8, we definitely had the pace to score points, so congratulations to Yuki who did. Every time I passed Carlos in Turn 1, he overtook me with the DRS afterwards. I'm also frustrated with myself for leaving the door open to Oscar, who passed me in Turn 8. Strategically, I can perform better moves tomorrow. Some things changed throughout the race, probably also because of the asphalt we have here, but I think I did well by adapting my driving style mid-race. In fact, we gained a lot from Carlos (Sainz) during the last couple of laps. Unfortunately, by the chequered flag, we were still behind by a couple tenths. Looking at the positive, I think it's exciting to see the forward steps we've taken with the car. I also learnt some things during the race, and I'll keep them in my back pocket for tomorrow. We'll watch the replays and figure out how to plan my overtakes better, trying to find a bit more clear air and use that pace."
Claudio Balestri, Chief Engineer, Vehicle Performance: "After a disappointing qualifying yesterday, we tried to extract the maximum from our package today. This morning during SQ1, we decided to complete two timed laps, which allowed us to advance into SQ2. It wasn't very easy, but we were lucky to set our lap times before a collision between Ocon and Alonso caused a red flag. For the second part of the Shootout, most of the top teams went out at the green light, while we decided to wait for the last minute, getting the advantage of track improvement. This strategy paid off, and we got into SQ3 with both our cars. For SQ3 we had a little advantage compared to the other top ten cars because we had a new set of tyres for both drivers. We set very competitive lap times with Yuki in P6 and Daniel in P8. This good result put us in a good position to score points in the Sprint race, and in the end, this is exactly what happened. Unfortunately, it was only with one car. We decided to start the Sprint race on a new set of soft compound tyres, compared to other top ten cars, which started on a used soft tyre. Although we lost one position with both cars on Lap 1, both drivers showed a competitive pace during the race, putting pressure on the two Ferraris ahead of them. In the last part of the race, Yuki gained another position by overtaking Hamilton, who was struggling with his tyres. At the end of the Sprint, Yuki ended up in P6 and Daniel in P9, just outside the points, which is a shame. Now we're looking forward to seeing if we're able to score points during the Grand Prix. Our starting position isn't fantastic, but our pace today was strong enough to hope for points tomorrow."
Williams Racing
Alexander Albon (15th): "It was a decent race for us today, despite being at the back. The pace was reasonable but the degradation for most drivers was massive, so it feels quite terrible to drive if I'm honest. It's a strange one as when you have that much deg, you'd think you'd just go on harder tyres, but the Hard tyres are so bad around here, with the Softs being the only tyre with reasonable grip. I think strategy is going to be quite interesting tomorrow with it ultimately being dependent on deg, so we'll see but hopefully we'll be okay."
Logan Sargeant (20th): "It's a Sprint race, so you take what you can. For sure we learnt a few things on direction for tomorrow, but we couldn't risk the car for tomorrow, so it's just frustrating being stuck in a DRS train. If I had clean air today, I would have had a lot of pace. Alex was able to move forward, which is positive, and I think if I'd have encountered the cars ahead individually, rather than in a DRS train, I would have been able to do the same. We just need to be able to try to find those gaps tomorrow to work our way forward. It's not been an easy weekend for us but tomorrow looks a bit cooler, which should suit us better, and I think we have pace advantage on quite a few cars ahead in race trim, so we have 71 laps to take advantage of that."
Dave Robson, Head of Vehicle Performance: "Today was difficult with Alex unable to set his final laptime in Sprint Shootout 1 following the red flag. Whilst we didn't expect today to be easy, starting the sprint race with both cars on the back row was not a fair reflection of our real performance. The track was very hot for the sprint race and we opted to run each driver on a different compound as part of our preparation for tomorrow. Alex was able to move forwards, picking off the slower cars in front before finding free air and setting a good pace. Although the degradation was high and the car was difficult to drive, his stint pace was good relative to the competition. Logan had similar pace but was stuck in a DRS train, which makes overtaking here very difficult. Nonetheless, he collected some useful data and experience that will help us tomorrow. Alex starts tomorrow's Grand Prix in a good position and has an opportunity to fight for a points-scoring position. Logan starts a little further back, but he has the pace to progress and his experience today will help him attack tomorrow."