SEPTEMBER 13, 2023
Schumacher still not ruling out 2024 F1 return
Mick Schumacher admits he may need to revert to his 'plan B' for 2024, as his options to return to the Formula 1 grid dwindle.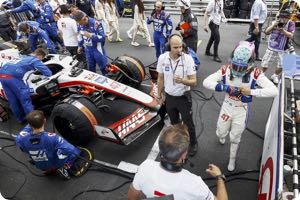 Hopes dies last, Mercedes' 24-year-old reserve driver, who was dumped by Haas after two seasons, told the SID news agency.
Toto Wolff, Schumacher's current boss, blames Haas for the German's predicament.
When you don't feel confident with a car for a long period, the more pressure you put on yourself, the worse your performance is, and I think this is what happened to him at Haas, the Mercedes principal and co-owner is quoted by DAZN.
He is a driver who has proven to be fast. He won F3 and F2, he showed that he has great potential, but he was never able to demonstrate his qualities in F1.
Schumacher stayed quiet about his criticisms of Haas since his dumping late last year, but he says he would now tell prospective new teams: You haven't seen the real Mick yet.
He insists he hasn't yet given up on a 2024 return to the grid, but the latest news from Alfa Romeo is that Guanyu Zhou will be given at least another season.
Schumacher insists: "Hope dies last. As long as all the seats are not taken, it is not over.
We have seen in the last two or three years that things can still change, even if contracts are in place. So it would be wrong to give up hope.
However, he acknowledges the need for a 'plan B' - which will probably be another season at Mercedes.
Of course I've thought about it and I am setting it up at the same time, said Schumacher, without giving details.
He says serving as Mercedes' reserve this year has been beneficial in many ways - probably even more than I expected.
The simulator work in particular was very helpful. I was able to see how a top team works, said Schumacher.
But watching the other drivers race while he sits in the garage hurts, of course.
I would be lying if I said I liked it, the 24-year-old son of F1 legend Michael Schumacher admitted. "I'm a racing driver. All I want to do is win.
But I have to come to terms with reality, keep working on myself, keep trying to have conversations and showing who I am.
(GMM)