SEPTEMBER 13, 2023
Red Bull-Ford could power four F1 teams says Horner
Christian Horner says it's possible up to eight cars could eventually be powered by Red Bull-Ford's own Formula 1 engine after 2026.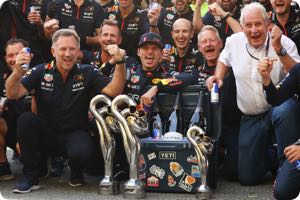 He says the only initial plan is to supply the power units to Red Bull Racing and Alpha Tauri.
If our engine is attractive to customers, we would be open to negotiating to supply engines to other teams in the future, the Red Bull team boss is quoted by DAZN.
"But for now we need to concentrate on what we're doing.
Our relationship with Ford is working very well, but we are essentially an independent manufacturer, which is an advantage in the long term, Horner added.
"But our facilities will be capable of powering eight cars. It's something we think we can do in the longer term.
For now, our goal is to get a group integrated into the chassis team, so that they work as a single collective unit. It's a huge challenge, but I think it's the right path and we are making reasonable progress, Horner added.
For Red Bull, still using Honda's engine, it will be an immense challenge, with a GPS analysis at Auto Motor und Sport revealing that Ferrari currently has the most powerful engine in F1.
Indeed, Ferrari was very competitive last time out at Monza.
It was a surprising result, Horner admits. "We knew we had a fast car, but the Ferrari was very, very fast on the straights.
We are competing against huge opponents and we are just going race by race. Singapore will be one of the toughest races on the calendar. Last year we saw how dangerous it can be, he said, referring to 2022 - which was Verstappen's worst finish of the season.
We will do everything possible to maintain the momentum we have, Horner said. One day they'll beat us. It's inevitable - it's guaranteed. It's just a question of when.
(GMM)