NOVEMBER 5, 2023
Marko admits sudden Mercedes slump surprising
A recent surge in performance by Mercedes looks to have collapsed in Brazil.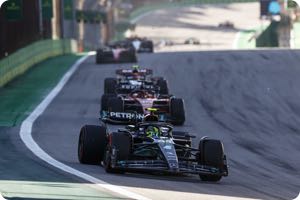 After Lewis Hamilton's run of back-to-back second placed finishes with a new floor, hopes were high that the former champions might finally be closing the big gap to Red Bull.
Heading into the weekend at Interlagos, Red Bull's Dr Helmut Marko had told Kronen Zeitung newspaper: Hamilton has always been strong in Brazil, and Mercedes has shown that it is a team that is now on the rise.
However, the black cars fell backwards down the order in Saturday's sprint race - with Hamilton ultimately finishing just seventh.
It was really positive to see the progress we've made, said the seven time world champion. "Then we arrive at another track and we have the worst tyre degradation in years.
"You just don't know what to expect with this car. But there are only a couple of races left with it, after which it will be a thing of the past.
And I'll be very happy about that. I'm just counting down the days and trying to enjoy each one of them as much as I can.
George Russell said Mercedes' Saturday slump is a bitter pill to swallow, while team boss Toto Wolff said the entire experience of 2022 and 2023 has demonstrated that the team was way off track with its basic car concept.
Mercedes had to raise its ride-height for the Interlagos bumps for fear of an Austin-like disqualification, with Wolff confirming: We put it higher than we normally would have.
But still, it's a big and sudden decline for the team that - just a year ago - powered Russell to his first victory in Brazil.
I don't care about the past, Wolff insisted. But this wasn't good. We wore out the tyres in the first two laps.
Hamilton agreed, telling Viaplay: This was probably the worst race of the year. The car felt pretty bad.
The question now is whether any team will be able to get close to Red Bull even in 2024. When will we fight for the world championship? McLaren team boss Andrea Stella told Sky Italia.
Hopefully next year.
Indeed, Lando Norris was a strong second behind Verstappen on Saturday, with the fastest Ferrari - Charles Leclerc - just fifth.
It hurts a bit to see how fast the McLarens and Red Bulls are, Leclerc told Canal Plus after the sprint race. We are missing a lot to them.
Red Bull's Marko told Sky Deutschland: The most surprising thing here is that Mercedes had a lot of tyre wear and weren't particularly fast. Max was able to just control the gap to Norris perfectly.
As for 2024, former Red Bull driver Robert Doornbos warned every team to prepare for another season of chasing Verstappen.
Next year the budget cap penalty will be gone and I think they'll have a new wind tunnel - so get ready for it, he smiled to Ziggo Sport.
(GMM)