NOVEMBER 5, 2023
Haas threatens huge shake-up of US GP race results
Haas is bidding to totally shake up the results of the recent US GP in Austin - amid a frantic battle for millions in official F1 prize money.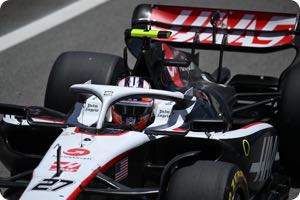 At Interlagos, the small American team is still struggling badly with the performance of its new 'B' car - which made its debut in Austin.
We have tyre degradation and it seems like we just can't get it under control, team boss Gunther Steiner admitted.
But what Haas may have more control of is putting a bomb underneath the Austin race classification - where Nico Hulkenberg and Kevin Magnussen failed to score a point.
'Track limits' has been a big issue recently, but Haas believes the FIA missed a huge amount of white line violations that should now be retrospectively penalised - and could pull the team out of its dead-last place in the lucrative constructors' championship.
Haas believes it was a lack of camera footage especially at turn 6 that caused the race directors to fail to notice literally dozens of track limits infractions.
The team has now done its own full review of all the onboard camera footage from all of the cars up and down the grid, and put together a 28-page dossier.
(Alex) Albon, who finished ninth in the US GP, could be facing 15 five-second penalties, Auto Motor und Sport correspondent Michael Schmidt claims.
The other Williams of Logan Sargeant apparently crossed the white line three times, while Red Bull's Sergio Perez may have been subject to a whopping 18 five-second penalties that Haas now wants applied retrospectively.
Lance Stroll was another repeat track limits offenders, with a reported 16 potential five-second penalties.
If Haas' objection is upheld, the classification would have to be completely rewritten, Schmidt said. Hulkenberg would move up four positions and suddenly be seventh instead of eleventh.
Haas, currently dead last in the constructors' championship, officially requested the 'right of review' in a letter to the FIA, leaving it in the hands of the FIA's lawyers who want several days to look at the dossier.
(GMM)