SEPTEMBER 11, 2023
Haas to debut Red Bull-like B car in Austin
Haas is set to follow in Red Bull and McLaren's wheel-tracks with a looming car update.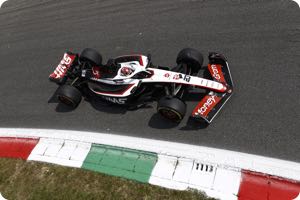 After an abysmal performance for the small American team at Monza, drivers Nico Hulkenberg and Kevin Magnussen lamented a lack of car development this year.
It's just a paradox that we have one of the weakest cars with the strongest foundation I've seen in the team, said Magnussen.
Right now it's all about enduring it and having patience.
The drivers' criticism appears justified, given that Haas even had to revert to an older-spec front wing at Monza because the latest one was inappropriate for such a high speed circuit.
But Auto Motor und Sport now reports that Haas is currently working on a rare car upgrade for its home race at Austin late next month.
Correspondent Michael Schmidt said the update is so significant that it could be described as a 'B' car that is said to be closely based on the Red Bull.
On the surface, it appears to be a wise move, given that McLaren's Red Bull-like upgrades in 2023 moved the team from deep within the midfield to become one of Red Bull's main challengers at some races.
2016 world champion Nico Rosberg said: Christian Horner told me after Monza that he thinks the competition will be much tighter next year because everyone will copy Red Bull.
Haas boss Gunther Steiner confirmed: We will be heavily modifying the car to better understand which direction we have to go in next year.
Indeed, with an office on the grounds of Ferrari's Maranello factory, Haas' car is heavily based on the Ferrari design philosophy.
No matter what we do, we can't find a laptime anymore, Steiner lamented.
So the 'B' version for the US GP will, according to Schmidt, look more like a Red Bull.
The floor, sidepods and engine cover will adopt elements from the fastest car in the field.
Boss Steiner admits the radical mid-season change of direction is a risk.
The risk would be even greater if we only discovered in Bahrain 2024 that something was wrong with our new path, he said.
McLaren showed us that you can make a big leap with a change of concept. It's no use just adding new parts to your existing car and just standing still.
Schmidt said both Haas and technical partner Ferrari will then both head in the Red Bull-McLaren direction with new chassis and transmissions for 2024.
(GMM)