SEPTEMBER 11, 2023
F1 owner admits Verstappen a challenge to sport's appeal
The CEO of the company that owns Formula 1 admits it is becoming hard for the sport to sell Max Verstappen's utter dominance this year.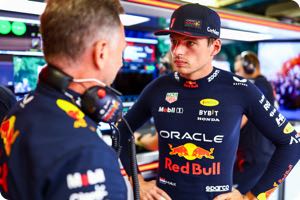 With Red Bull winning every race so far this year, and Verstappen on a record-breaking ten-race winning streak and counting, F1 CEO Stefano Domenicali said recently it's the right moment to stop and celebrate the Dutch driver's lasting legacy.
If someone is great, we need to celebrate what they're doing, said the Italian.
Greg Maffei, Domenicali's boss as the CEO of Liberty Media, told an event organised by Goldman Sachs that he backs that approach for now.
Stefano Domenicali is rightly trying to pivot and say 'Come watch this historic event, you've never seen success like this, you don't want to miss it'. We'll see if it works, the American smiled.
F1 veteran Fernando Alonso said last week that while the new 'ground effect' regulations that debuted in 2022 have made following another car easier, there is a downside.
Something has gone wrong, he told Cadena Ser, "because of the last 25 races, 24 have been won by a Red Bull.
I don't know what those people are eating and drinking, Alonso laughed, because they are the best at everything. At the moment they have no weaknesses and all teams are working hard to find one for them.
Maffei admits that is a challenge for selling Formula 1 as a competitive sport.
The midfield is quite interesting, he said. "And we can show that statistically there's more overtaking than has ever occurred.
The reality is that we have a very attractive, competitive product - other than the fact that Max is that fast. Short of breaking his leg, a la Tonya Harding, I'm not sure what we can do about that, Maffei joked.
His dominance is a challenge to interest in the sport and retaining the viewers and fans. So we are turning to turn it around by saying 'Come and see Verstappen, he is achieving historic successes, you don't want to miss that'.
(GMM)