NOVEMBER 6, 2023
Perez now emerging from performance slump says Marko
Dr Helmut Marko is relieved that Sergio Perez seems to finally be getting back in top form.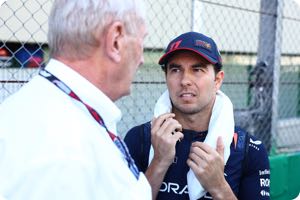 Team bosses have been at pains to deny raging speculation that Red Bull intends to oust the Mexican despite his 2024 contract, but there is no doubt Perez has been struggling for form.
Marko, though, admits he enjoyed watching Perez joust with two-time champion Fernando Alonso for the final spot on the Brazilian GP podium on Sunday.
It was a fascinating fight, he told Sky Deutschland. Unbelievable - the position changes, the chase, how they worked tactically. Racing at its finest.
The only issue for Perez, Marko said, is just losing out to the Aston Martin.
The mistake on the last lap was that he didn't come out of the third corner properly, but that's easy for me to say, the 80-year-old admitted.
But Marko thinks Perez might finally be coming out of his performance slump.
His pace has been good since Mexico, both in qualifying and in the race, said the Austrian.
He had some bad luck in Austin, but he now has a 30 point lead over (Lewis) Hamilton, so now we can assume that he will keep second place.
(GMM)