NOVEMBER 6, 2023
Haas could be dead last again in 2024, Hulkenberg warns
Nico Hulkenberg is not far away from agreeing with critics of the Haas team that the small American team's 'B-spec' upgrade is a total flop.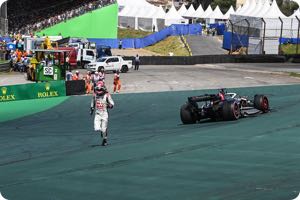 The experienced German, who returned to Formula 1 this year to be arguably the stronger of the Haas duo, has been forthright in his own criticism of the team's 2023 progress.
When asked what he and the team gained over the Interlagos weekend in the 'B' car's third outing since its Austin debut, Hulkenberg admitted to Sky Deutschland: "Little to nothing.
We get something from one lap, but on the second and third laps, nothing works anymore. The really old asphalt here really causes problems for our car. The aerodynamics completely disintegrates in some corners.
Team boss Gunther Steiner openly admits that Haas expected more from the 'B' car, but 36-year-old Hulkenberg takes it a lot further than that.
It's not a clear step forward, he admits. "We understand that now and we know it.
"It feels similar in some places, better in some places, worse in some places. So at the end of the day it's balanced.
But we actually needed a real step forward in performance, and unfortunately that didn't happen.
And with now only two races left in 2023, it's a worrying sign for Haas' 2024 campaign - given that the team is likely to finish dead last overall this season.
We have to look at that and see how we approach the topic of car concept and aerodynamics for next year. That's currently our biggest weak point and we have to address it, said Hulkenberg.
Otherwise it will be a similar story next year.
However, the German says he can cope with his current on-track struggle.
Sundays aren't usually that much fun, he admits. "It's not ideal and I'm usually bitter on a Sunday afternoon - and then on Monday and Tuesday too.
By Wednesday I've usually digested it and I'm living my life, Hulkenberg smiled.
(GMM)