SEPTEMBER 3, 2018
To make way for Lando Norris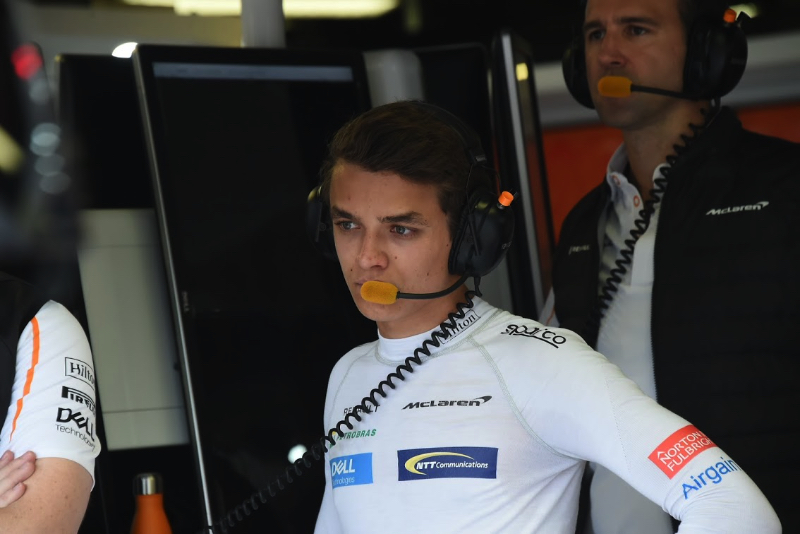 © RV Press
On the heels of announcing that Stoffel Vandoorne is out at McLaren, the team announced that it will be taking british driver Lando Norris to join Carlos Sainz in it's driver lineup for the 2019 Formula One season.
Eighteen-year-old Norris joined McLaren's Young Driver Program in 2017, and became McLaren's test and reserve driver in F1 this year. Norris is currently second in the Formula 2 Championship with four rounds remaining. Previously Norris won five karting championships, the European Formula 3 championship, the Formula Renault 2.0 Northern European Cup, the Formula Renailt 2.0 Euurocup and the Toyota Racing Series championship.
Lando Norris said, "To be announced as a race driver for McLaren is a dream come true. Although I've been part of the team for a while now, this is a special moment, one I could only hope would become reality."
"I'd like to thank the whole team for this amazing opportunity and for believing in me. I'm also extremely grateful for the commitment McLaren has already shown in my development, allowing me to build my experience in a Formula 1 car in both testing and on Fridays during the past two race weekends."
"For the remainder of 2018, my focus remains firmly on the Formula 2 championship. My objective is to win the title before joining McLaren full-time, which will be tough, but I will fight as hard as I can for the remaining four races. I'll also be working closely with McLaren at every opportunity to learn as much as possible from the drivers, engineers and mechanics to give myself the best preparation ahead of next year."
McLaren Racing CEO, Zak Brown said, "We're very pleased to finally be able to reveal who will complete our driver line-up at McLaren for 2019."
"We believe Lando is an exciting talent, full of potential, who we've very deliberately kept within the McLaren fold for exactly that reason."
"We already know he's fast, he learns quickly, and has a mature head on his young shoulders. We see much potential for our future together. The investment we have made in his budding career with simulator development and seat-time in the car has been well-deserved, as he has continued to prove his abilities both behind the wheel and in his work with the engineering team."
"Lando is an integral part of our plan for rebuilding our Formula 1 operation for the future, and he has already developed a strong relationship with the team."
"In Lando and Carlos we have an impressive duo who, despite their relative youth, hold valuable experience in Formula 1 and with McLaren, and represent the next generation of McLaren drivers to lead the team forward. While our short-term focus is fixed on securing the best possible result for the remainder of the 2018 season, we're also massively motivated by the opportunities that lie ahead."
Other stories for SEPTEMBER 3, 2018