NOVEMBER 15, 2023
GM to be works F1 engine supplier by 2028
On the eve of the new Las Vegas GP, American carmaker giant General Motors has given Andretti's chances of entering Formula 1 a massive boost.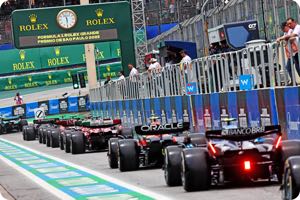 The involvement of GM brand Cadillac already helped Michael Andretti's F1 aspirations get the official nod from the governing body FIA for a 2025 entry.
However, the door to the grid remains closed to Andretti-Cadillac due to F1 owner Liberty Media's reluctance to agree commercial terms with an eleventh team entry.
AP news agency reported recently that F1 had even approached GM asking if the carmaker might abandon the Andretti project and tie-up with another team instead.
GM president Mark Reuss, however, declared last week: GM is committed to partnering with Andretti to race in F1.
And now, Formula 1 might struggle to keep opposing Andretti-Cadillac, given that General Motors has announced its official registration as a F1 engine supplier for 2028.
Until then, Andretti would have to run Cadillac-branded Renault or Honda customer engines, even though a deal with either of those suppliers is not done.
But with full works GM engines for Andretti in 2028, the case for an eleventh team entry in Formula 1 suddenly appears much more likely - or even inevitable.
We are thrilled that our new Andretti-Cadillac F1 entry will be powered by a GM power unit, GM president Mark Reuss declared in a statement on Tuesday.
"With our deep engineering and racing expertise, we're confident we'll develop a successful power unit for the series, and position Andretti-Cadillac as a true works team.
We will run with the very best, at the highest levels, with passion and integrity that will help elevate the sport for race fans around the world, he added.
A delegation of GM executives is expected to attend this weekend's Las Vegas GP.
(GMM)