NOVEMBER 7, 2023
Drivers not oblivious to global unrest says Russell
Formula 1 drivers are not oblivious to the precarious global situation, George Russell insists.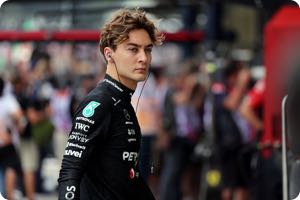 While a major exception was the social justice movement of a few years ago and even covid-19 and the outbreak of war in Ukraine, the drivers have been largely quiet about more recent global goings-on - like the new conflict in Gaza and Israel.
Gaetan Vigneron, a correspondent for F1's Belgian broadcaster RTBF, asked Mercedes driver Russell if he - for one - is still keeping up with current events or whether his full focus is now exclusively on his day job.
I read the news and I see what's happening in the world, the 25-year-old Briton said.
Obviously we live in a bubble in F1 and it's clearly the most important thing in our lives, added Russell, a senior director of the Grand Prix Drivers' Association.
It's only when we take some time to look around that we see what's happening around the world.
And it's not war that is front of mind for Russell, but something that he sees as even closer to home - poverty.
There is so much poverty in the world, he lamented. "When I was in the US recently I saw so many homeless people. It was terrible to see.
Sometimes I wonder why we don't do more for them.
(GMM)