SEPTEMBER 7, 2023
Alonso impressed by Norris and Albon in 2023
Fernando Alonso has singled out Alex Albon and Lando Norris as two of Formula 1's most promising young drivers at the moment.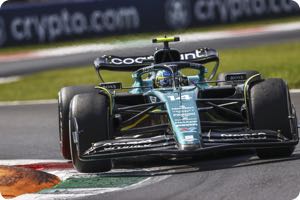 At 42, and with F1's all-time record for the most number of grands prix contested and counting, the Spaniard is enjoying a new dawn of competitiveness at the wheel of his Aston Martin in 2023.
He admits he followed his instinct by making the switch from Alpine this year.
First, Vettel retired, Alonso told Cadena Ser. "Second, Alpine had been negotiating for several months and nothing was ever finalised.
"We had agreed on everything, but the papers didn't arrive. I noticed a slight lack of professionalism.
"But with Aston, they had everything on the table on Saturday after Vettel's announcement on Thursday. That desire to have me was attractive.
It was an adventure, a risk, but it turned out well and the hunch worked this time. There were a few hours with the two offers on the table, but I saw more ambition in Aston Martin.
After a series of early podiums in 2023, Aston Martin entered a more recent slump but Alonso says he was always prepared for a longer period on the way to the top three.
Hopefully now, for 2024, if we make a big leap in the winter similar to the leap we made last winter, it would be incredible. So, hopefully.
However, he warned his fans that his hyped-up push for a 33rd career victory may not materialise this year - or at all.
I may retire without achieving it, said Alonso, "but every time I eat breakfast every day, I am thinking about fighting for the world championship.
If I am here, if I sacrifice my life for this sport and for this passion, it is because I believe in the team and I believe that I can win.
At present, Red Bull's Max Verstappen is utterly dominating, causing some to complain that it's making F1 boring.
But Alonso says it's just Formula 1.
It wouldn't be F1, he said when asked if he would prefer that each driver has an equal chance of success.
"There have always been different teams, and technology has always made the difference. It has always been like that and it always will be like that. Because it is the premier category.
There are other categories - F3, F2, Indy, karting. F1 is perhaps the least fun of all, but it is, without a doubt, the one that has the most impact.
So when asked which of the new generation of drivers is impressing him the most personally, Alonso answered: "Well, we have Lando (Norris), who is a great talent and also a nice guy.
(Alex) Albon is standing out a lot this year. Then there is (Gabriel) Bortoleto, who has just won F3. And Pepe Marti, he added, referring to a young Spaniard his management company handles who has just been signed up to Red Bull's driver program.
In Indy there is (Alex) Palou. In the end, the stopwatch always rules and there are many who push us veterans like (Lewis) Hamilton and I, but at the moment the veterans defend ourselves quite well, Alonso smiled.
(GMM)