NOVEMBER 9, 2023
2024 contender Norris makes too many mistakes
Lando Norris is emerging as perhaps the most likely title challenger for Max Verstappen in 2024 - even if the on-form McLaren driver is accused of still making too many mistakes.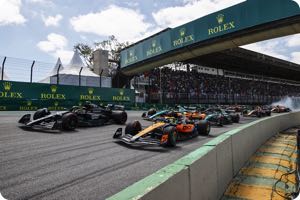 Red Bull team boss Christian Horner now regards McLaren, not Ferrari or Mercedes, as the next likely title contenders. If they carry over their current form into next year, they will definitely be a contender for the title, he said.
Mercedes' Toto Wolff acknowledges McLaren's ascension, remarking: They barely got past Q1 in the first races. Now they're even challenging Max.
It comes as McLaren's team boss Andrea Stella revealed a dedicated focus on the future despite the clear and impressive progression throughout 2023, stating: We've been working almost full steam ahead on next year's car since July.
Dominant triple world champion Verstappen admits McLaren's car has clear strengths, saying after Interlagos: Their car goes over curbs and bumps better than ours, the Dutchman said.
Despite this, Red Bull's suspension system remains superior in the ground effect era, according to Stella: "It is very important. Not only to bring out the aerodynamics in the best possible way, but also as the only link to the chassis.
The suspension therefore plays a fundamental role in the use of the tyres, he added, commending the 2023 Red Bull.
Former F1 driver Ralf Schumacher, however, spots another chink in McLaren's armour - despite Norris' impressive recent form behind Verstappen.
Lando has become Max's number 1 pursuer, he told Sky Deutschland.
But he still makes too many mistakes, especially in qualifying.
Team boss Stella doesn't totally disagree, admitting Norris' need for fine adjustments. What we have to do is minimise these miniscule mistakes, he said.
(GMM)