Russian GP 2018
SEPTEMBER 29, 2018
Qualifying Report - The streak continues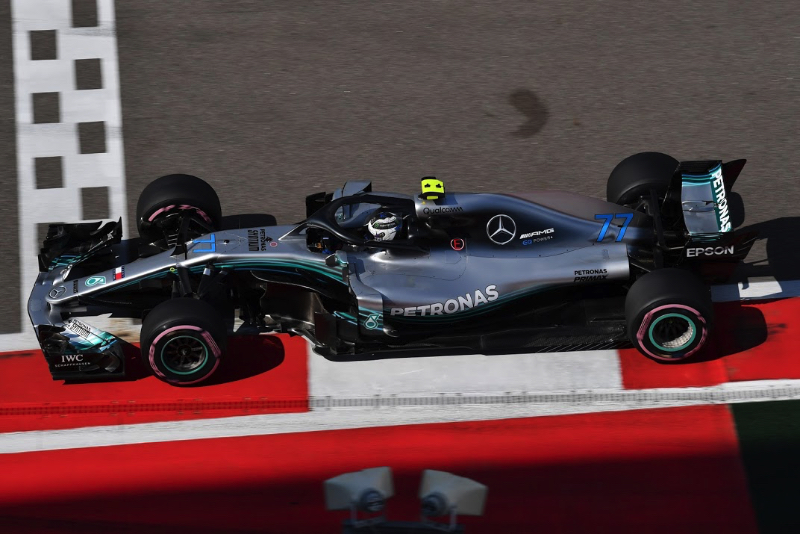 © RV Press
By Dan Knutson
Valtteri Bottas had never been outqualified by a teammate in the first four editions of the Russian Grand Prix. He kept that streak alive this year as he beat out Mercedes teammate Lewis Hamilton to win the pole for the first time in Russia.
The line-up for the weekend was: Mercedes – Hamilton and Bottas; Ferrari – Sebastian Vettel and Kimi Raikkonen; Red Bull TAG Heuer – Daniel Ricciardo and Max Verstappen; Racing Point Force India Mercedes – Sergio Perez and Esteban Ocon; Williams Mercedes –Lance Stroll and Sergey Sirotkin; Renault – Nico Hulkenberg and Carlos Sainz; Toro Rosso Honda – Brendon Hartley and Pierre Gasly; Haas Ferrari – Romain Grosjean and Kevin Magnussen; McLaren Renault – Fernando Alonso and Stoffel Vandoorne; Sauber Ferrari – Marcus Ericsson and Charles Leclerc.
The Red Bull and Toro Rosso drivers as well as Alonso all had new engines, so would be sent to the back of the grid with their subsequent penalties.
Hamilton had been fastest in Free Practice 3 earlier in the day with an unofficial lap record time of 1:33.067.
QUALIFYING 1
The ambient temperature at the start of Q1 was 73 degrees Fahrenheit (23 degrees Centigrade) and the track temperature was 99 degrees Fahrenheit (37 degrees Centigrade).
Stroll was the first out in the 18-minute session.
Pirelli's tire choices were the hyper soft, ultra soft and soft.
Vettel set the early pace with a lap in 1:33.534. Bottas beat that with his 1:33.170. Hamilton had a fast lap going but backed off in the last sector because of traffic.
Raikkonen slid into second, 0.171 of a second behind Bottas.
With just under seven minutes remaining, Alonso was 15th and on the bubble with Hartley 14th and Sirotkin 16th. And Hamilton was now in first with a lap of 1:32.825.
The Red Bull drivers only did their fast laps in the final few minutes, and Ricciardo took third and Verstappen fourth, and pushed Raikkonen and Vettel down to fifth and sixth.
Hamilton was flying, getting down to 1:32.410, a full second faster than Vettel.
With a minute to go, Sainz was on the cutline at 15th. Sirotkin had a spin and ended up 18th.
The five drivers who were eliminated at the end of Q1 were: Hartley, Alonso, Sirotkin, Vandoorne and Stroll.
The fastest 15 drivers who moved on to Q2 were: Hamilton, Bottas, Verstappen, Ricciardo, Raikkonen, Vettel, Leclerc, Grosjean, Magnussen, Perez, Ericsson, Ocon, Gasly, Sainz and Hulkenberg.
QUALIFYING 2
Bottas was first out in the 15-minute Q2.
The Mercedes and Ferrari drivers were on the ultra soft tires rather than the hyper soft. The top 10 in Q2 start the race on the tires they set their fastest lap time in the session, so the Ferraris and Mercedes drivers would be on the more durable rubber.
Hamilton clocked a 1:32.595, which was 0.149 of a second better than Bottas. And the Ferrari drivers were four tenths of a second back.
Gasly, Ricciardo and Vettel did not go out in Q2 given that they would be taking their grid penalties.
Leclerc was an impressive fifth with seven minutes to go.
Sainz and Hulkenberg waited until the final moments to go out and set their lap times. And in the end they dd not go out at all. So with four minutes Ericsson was tenth and on the bubble.
The Ferrari and Mercedes drivers went out in the final moments to try out the hyper soft tires for Q3. But they were careful not to go too fast and beat the times set on the ultra soft Pirellis.
The five drivers who were eliminated at the end of Q2 were: Verstappen, Ricciardo, Gasly, Sainz and Hulkenberg.
The fastest 10 drivers who moved on to Q3 were: Hamilton, Bottas, Vettel, Raikkonen, Leclerc, Grosjean, Ocon, Magnussen, Perez and Ericsson.
QUALIFYING 3
Q3 lasted 12 minutes. Now, of course, all the drivers were on the hyper soft Pirellis.
Ericsson was in Q3 for the first time since Italy 2015. He did not head out immediately when the session started, but the other nine drivers did.
Bottas clocked a 1:31.528. Ten seconds later Hamilton crossed the line and was 0.004 of a second slower than his teammate.
Once again the Ferrari drivers were considerably slower – Vettel by six tenths and Raikkonen by seven tenths.
After the first runs, Ocon was fifth ahead of Leclerc, Magnussen, Perez and Grosjean. Ericsson did not set a time.
Just under four minutes remained as the drivers including Ericsson went back out for their final attempts.
The top 10 qualifiers were: Bottas, Vettel, Raikkonen, and Ericsson.
Bottas was first and set a record time of 1:31.387. Hamilton abandoned his lap but remained second. Vettel, half a second down, was third ahead of Raikkonen, Magnussen, Ocon, Leclerc, Perez, Grosjean and Ericsson.