Russian GP 2018
SEPTEMBER 29, 2018
Practice 3 Report - Gauging which foot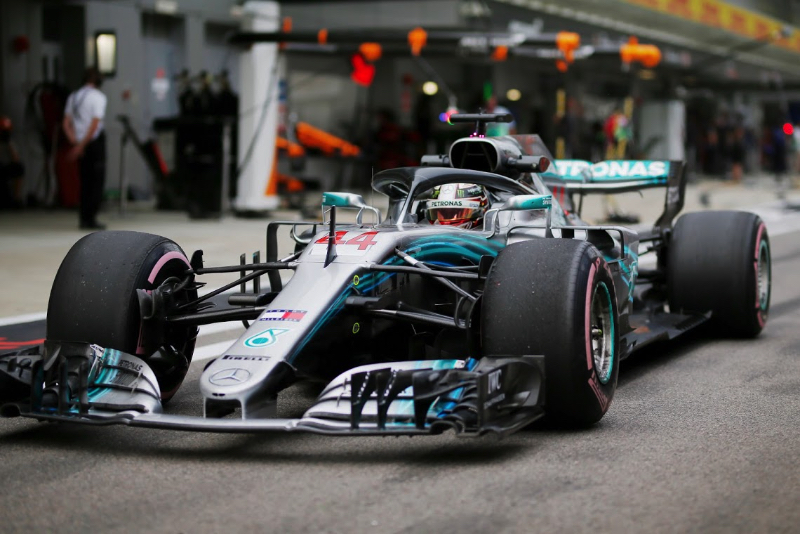 © RV Press
By Dan Knutson
Lewis Hamilton set a lap record as he posted the fastest time in Free Practice 3 for the Russian Grand Prix.
"Sochi has been one of the weaker circuits for me in the past, particularly last year," he said. "So I've done a lot of work to understand the balance and see where I can improve to try and rectify this - today has been good in that sense. From every race we're learning more and more and particularly the last few races have helped us to really gauge which foot we need to start on for the weekend.
"We've brought more upgrades this weekend; there's so much work going on at home and it's just really encouraging when you come to a race and you get an upgrade, knowing that this late in the season we're also already working on next year's car - it motivates me to get the best out of everything."
The line-up for the weekend was: Mercedes – Hamilton and Valtteri Bottas; Ferrari – Sebastian Vettel and Kimi Raikkonen; Red Bull TAG Heuer – Daniel Ricciardo and Max Verstappen; Racing Point Force India Mercedes – Sergio Perez and Esteban Ocon; Williams Mercedes –Lance Stroll and Sergey Sirotkin; McLaren Renault – Fernando Alonso and Stoffel Vandoorne; Renault – Nico Hulkenberg and Carlos Sainz; Toro Rosso Honda – Brendon Hartley and Pierre Gasly; Haas Ferrari – Romain Grosjean and Kevin Magnussen; Sauber Ferrari – Marcus Ericsson and Charles Leclerc.
Hamilton was also fastest on Friday, clocking a 1:33.385.
The ambient temperature at the start of the 60-minute session was 73 degrees Fahrenheit (23 degrees Centigrade) and the track temperature was 86 degrees Fahrenheit (30 degrees Centigrade).
Alonso was the first driver on track in FP3. Off track, the news was that Daniil Kvyat will return to Toro Rosso for the third time in 2019.
Kvyat, currently works for Ferrari, and he had flown to Italy on Friday to work in the simulator overnight and help the team figure out why it had been half a second slower than Hamilton in FP2.
And it was Vettel who set the early pace in FP3 with a lap of 1:33.859. But then Bottas beat that with a 1:33.809.
As the midpoint of the session approached, Hamilton took the lead as he got down to a 1:33.664 followed by a 1:33.496.
The true speed variance between the cars would soon be apparent as the drivers did their qualifying simulations on Pirelli's hyper soft compounds tires.
Before those runs, with 20 minutes to go, Hamilton was ahead of Bottas, Vettel, Raikkonen, Perez, Ricciardo, Ocon and Leclerc.
Vettel was one of the first to do a qualifying sim, but he went wide on a corner. Next, Bottas pushed hard and turned a 1:33.321 to move into first.
But now Hamilton was on his lap. And it was a good one: 1:33.067. A new track record.
Vettel was on pole here last year, but was 0.792 of a second slower than Hamilton this year and in third place. Then Raikkonen went 0.008 of a second quicker than Vettel to move into third behind Hamilton and Bottas. Vettel then posted a 1:33.667 to regain third.
The Red Bulls would be starting at the back because of engine penalties, so the team was not all that concerned with its qualifying pace.
Still, Verstappen was fifth quickest ahead of an impressive Leclerc. But late in the session Ricciardo grabbed sixth.
Hamilton stayed on top ahead of Bottas, Vettel, Raikkonen, Verstappen, Ricciardo, Leclerc, Ocon, Magnussen and Perez.