Russian GP 2018
SEPTEMBER 28, 2018
Practice 2 Report - Hyper Hamilton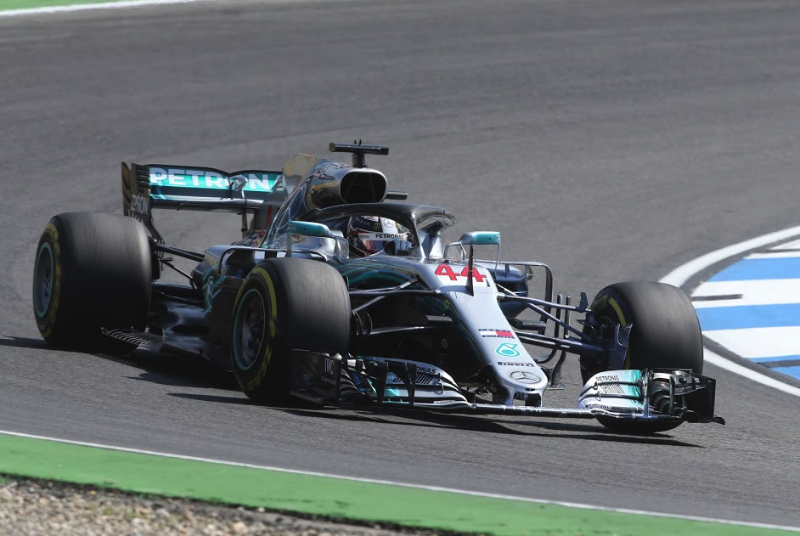 © RV Press
By Dan Knutson
Lewis Hamilton, using Pirelli's hyper soft compound tires, clocked the fastest lap time in Free Practice 2 for the Russian Grand Prix. His championship rival Sebastian Vettel could only manage the sixth quickest lap, half a second off Hamilton's time.
The line-up for the weekend was: Mercedes – Hamilton and Valtteri Bottas; Ferrari – Vettel and Kimi Raikkonen; Red Bull TAG Heuer – Daniel Ricciardo and Max Verstappen; Racing Point Force India Mercedes – Sergio Perez and Esteban Ocon; Williams Mercedes –Lance Stroll and Sergey Sirotkin; Renault – Nico Hulkenberg and Carlos Sainz; Toro Rosso Honda – Brendon Hartley and Pierre Gasly; Haas Ferrari – Romain Grosjean and Kevin Magnussen; McLaren Renault – Fernando Alonso and Stoffel Vandoorne; Sauber Ferrari – Marcus Ericsson and Charles Leclerc.
After handing over their cars to reserve drivers in FP1, Alonso, Perez, Sainz and Ericsson were getting their first taste of the track in FP2.
"The track has a street circuit feel, even though it's quite a quick and flowing lap," Perez said of the 3.633-mile (5.848 km) 18-turn Sochi circuit. "It is hard to overtake and qualifying is very important. Turn 3 is the most memorable corner of the track. It is very demanding on the front right tire and it reminds me of Turn 8 in Istanbul. It's a great corner from inside the car: you really feel its energy from entry to exit."
Vettel was fastest in that first session with a time of 1:34.488.
Alonso was first out in FP2.
The ambient temperature at the start of the 90-minute session was 70 degrees Fahrenheit (21 degrees Centigrade) and the track temperature was 82 degrees Fahrenheit (28 degrees Centigrade).
Pirelli's tire compounds for the weekend were the soft, ultra soft and hyper soft.
Vettel set the early pace with a lap of 1:35.382 on the ultras. But Verstappen, on the hypers, cut that down to a 1:34.433. Ricciardo, who missed most of FP1 as the team replaced the floor on his Red Bull, was now on track in FP2.
It didn't take long for the "top six" drivers to fill the top six places, with the order of: Verstappen, now at 1:34.164, Bottas, Vettel, Ricciardo, Hamilton and Raikkonen.
At the half-hour mark, Hamilton was now second, and 0.166 of second behind Verstappen, doing a qualifying run, who had improved to a 1:34.079 despite complaining about being "super slow on the straight."
And now other drivers were beginning to do their qualifying simulations on the hyper soft tires.
Bottas took the lead with a time of 1:33.584. Hamilton was fast in the first sector but lost time in the rest of the lap. But on his second attempt Hamilton got down to 1:33.548
Vettel's run produced a 1:34.060 – fifth best as the session neared its midpoint. Raikkonen could only manage sixth fastest behind Hamilton, Bottas, Verstappen, Ricciardo and Vettel.
Hamilton did another hyper run and got down to a 1:33.385, which put him 0.199 of a second ahead of Bottas. The pole position time in 2017 was a 1:33.194.
Meanwhile, Gasly, Ocon, Ericsson and Magnussen rounded out the top 10.
The teams now moved into race simulations and deciding if it would be a one stop or two pit-stop race.
Vettel livened up the final 30 minutes with a huge spin at Turn 13. He did not hit anything and returned to the pits to have the car checked over before going back out again.
With the top six front runners now running on used tires, none of them were going to improve their lap times, and thus hyper Hamilton remained on top ahead off Bottas, Verstappen, Ricciardo, Vettel, Raikkonen, Perez, Gasly, Ocon and Ericsson.