Japanese GP 2018
OCTOBER 5, 2018
Practice 2 Report - The upper hand handily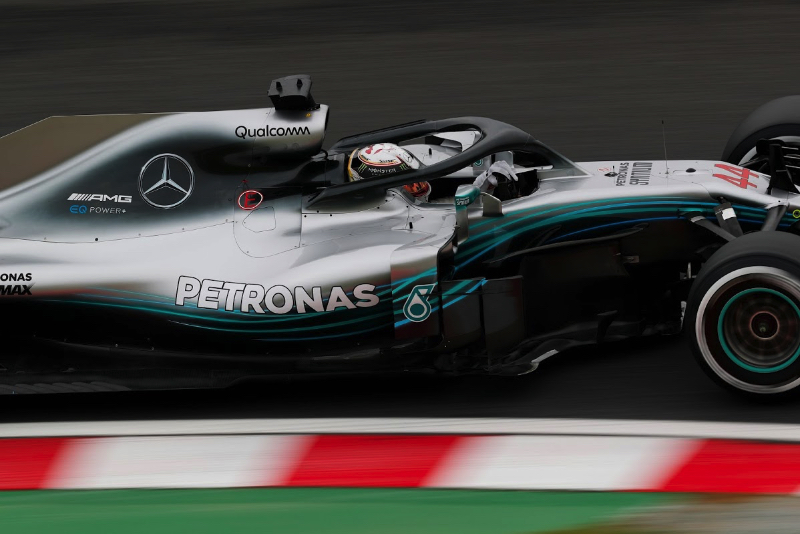 © RV Press
By Dan Knutson
Having been quickest in Free Practice 1 for the Japanese Grand Prix, Lewis Hamilton handily maintained the upper hand by being comfortably fastest in Free Practice 2.
The line-up for the weekend was: Mercedes - Hamilton and Valtteri Bottas; Ferrari - Sebastian Vettel and Kimi Raikkonen; Red Bull TAG Heuer - Daniel Ricciardo and Max Verstappen; Racing Point Force India Mercedes - Sergio Perez and Esteban Ocon; Williams Mercedes -Lance Stroll and Sergey Sirotkin; Renault - Nico Hulkenberg and Carlos Sainz; Toro Rosso Honda - Brendon Hartley and Pierre Gasly; Haas Ferrari - Romain Grosjean and Kevin Magnussen; McLaren Renault - Fernando Alonso and Stoffel Vandoorne; Sauber Ferrari - Marcus Ericsson and Charles Leclerc.
Hamilton used the soft compound Pirelli slicks to set the best lap time in FP1 - a 1:28.691. The other Pirelli compounds were the medium and super soft.
Vandoorne, who had sat out FP1 so Lando Norris could drive his car, was the first out in FP2 along with Alonso.
The ambient temperature at the start of the 90minute session was 73 degrees Fahrenheit (23 degrees Centigrade) and the track temperature was 81 degrees Fahrenheit (31 degrees Centigrade).
Vettel ran the soft compound tires to post a 1:29.398. Raikkonen was second, 0.605 of a second slower in the early part of FP2.
But 15 minutes in, neither McLaren nor Red Bull driver had set a lap time. Ricciardo was the first to do so, and he immediately popped up to third place. Then Bottas grabbed second. And then Hamilton took the lead with a 1:29.005 on the soft tires. He shaved that down to a 1:28.911.
Gasly was sitting in the garage while the mechanics fished about in the fuel cell of his Toro Rosso.
Thirty minutes into the session some of the drivers began their qualifying simulations on Pirelli's super soft compound slicks. Vettel turned a 1:29.050, which put him second. Ricciardo slotted into second, half a second back. But Bottas, Hamilton, Verstappen and Raikkonen had yet to do their runs.
And then they did. Forty minutes into FP2 Bottas was on a quick lap but backed off after running over a curb. Things went better for Verstappen who moved into third with a time of 1:29.257.
A couple of minutes later it was Hamilton's super soft turn, and he got down to a 1:28.217. On his second run Bottas cleared a 1:28.678. So now the order was Hamilton, Bottas, Vettel, Verstappen, Raikkonen and Ricciardo, followed by Ocon, Grosjean, Ericsson and Hartley.
As usual, the teams devoted the final 30 minutes to race simulations - not that anybody was going to catch Hamilton anyway.
The out-of-synch Gasly finally got out on track in the final 15 minutes after his fuel pump problem had been repaired. He immediately jumped up to 13th.
The top ten remained the same.