Italian GP 2018
SEPTEMBER 1, 2018
Qualifying Report - The seven year gap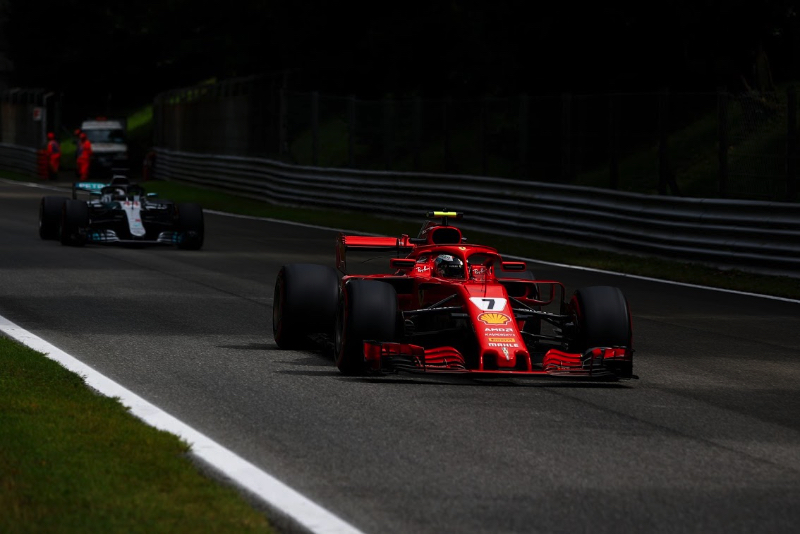 © RV Press
By Dan Knutson
The last time Ferrari had qualified on pole for its home Grand Prix of Italy was back in 2010 with Fernando Alonso. After a seven-year gap, Kimi Raikkonen put the Scuderia back on top by winning the pole for the 2018 Italian Grand Prix. He had a very good chance of standing on the top step of the podium after the race as well because 14 out of 18 of the last pole sitters have gone on to win at Monza.
The line-up for the weekend was: Mercedes - Lewis Hamilton and Valtteri Bottas; Ferrari - Sebastian Vettel and Raikkonen; Red Bull TAG Heuer - Daniel Ricciardo and Max Verstappen; Racing Point Force India Mercedes - Sergio Perez and Esteban Ocon; Williams Mercedes -Lance Stroll and Sergey Sirotkin; Renault - Nico Hulkenberg and Carlos Sainz; Toro Rosso Honda - Brendon Hartley and Pierre Gasly; Haas Ferrari - Romain Grosjean and Kevin Magnussen; McLaren Renault - Fernando Alonso and Stoffel Vandoorne; Sauber Ferrari - Marcus Ericsson and Charles Leclerc.
Vettel used Pirelli's super soft compound slicks to record the best time in FP3 - 1:20.509.
QUALIFYING 1
Ricciardo, Hulkenberg and Ericsson would all be starting at the back of the grid because of unscheduled engine changes.
Q1 lasted 18 minutes.
The ambient temperature at the start of qualifying was 66 degrees Fahrenheit (19 degrees Centigrade) and the track temperature was 82 degrees Fahrenheit (28 degrees Centigrade). There was an 80 percent chance of rain.
Vettel was out first and had a clear track to record a 1:21.578, but moments later Raikkonen best that with a 1:20.917.
Hamilton's lap produced a 1:21.321. Vettel improved to a 1:20.758.
So halfway through the session the order was Vettel, Raikkonen, Hamilton, Bottas, Verstappen and Ocon. Leclerc was 15th and on the bubble, with Grosjean 14th and Hulkenberg 16th.
Then Vettel went even quicker - 1:20.542. Hamilton improved but stayed third.
The bubble drivers shifted around in the final minutes, and the five drivers who were eliminated at the end of Q1 were: Perez, Leclerc, Hartley, Ericsson and Vandoorne.
The fastest 15 drivers who moved on to Q2 were: Vettel, Raikkonen, Hamilton, Ricciardo, Bottas, Verstappen, Ocon, Sainz, Magnussen, Hulkenberg, Sirotkin, Gasly, Stroll, Alonso and Grosjean.
QUALIFYING 2
Hamilton got things rolling with a time of 1:19.798 - the fastest lap in F1 history at Monza. Then Vettel went even faster - 1:19.785.
Raikkonen and Bottas were third and fourth but about half a second slower.
Midway through the session Gasly was 10th and on the cutline; Magnussen was ninth and Alonso 11th. But the Williams drivers had yet to make their runs.
Less than three minutes remained when all of the drivers but Ricciardo exited the pits for one last attempt.
Vettel went faster yet - 1:19.629.
While Hamilton stayed second and Raikkonen third, there was a lot of shuffling in the rest of the order. Verstappen took fourth ahead of Bottas, Grosjean, Ocon, Stroll, Sainz and Gasly. It was the first time this year a Williams made it into Q3.
The five drivers who were eliminated at the end of Q2 were: Magnussen, Sirotkin, Alonso, Hulkenberg and Ricciardo.
The fastest 10 drivers who moved on to Q3 were:
QUALIFYING 3
Q3 lasted 12 minutes. The Ferrari and Mercedes teams waited several minutes to head out.
Vettel recorded a lap of 1:19.497. Raikkonen beat that with 1:19.459. And Hamilton beat that with a 1:19.390.
Bottas was fourth ahead of Verstappen, Sainz, Grosjean, Ocon and Gasly. Stroll did not record a time.
And so it came down to the last couple of minutes. Raikkonen grabbed the pole with a time of 1:19.119, beating out Vettel by 0.161 of a second and Hamilton by 0.175 of a second.
Bottas, Verstappen, Grosjean, Sainz, Ocon, Gasly and Stroll rounded out the top 10.