Italian GP 2018
SEPTEMBER 1, 2018
Practice 3 Report - Split Ferraris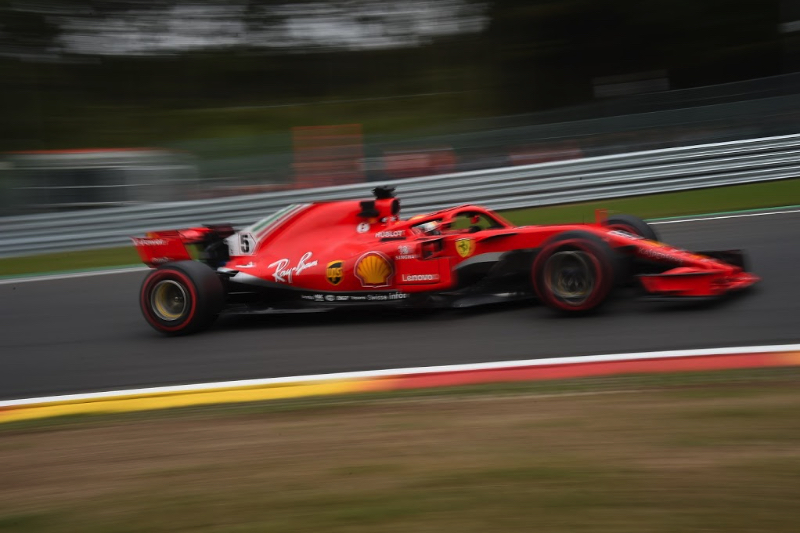 © RV Press
By Dan Knutson
Ferrari has a very fast car for its home Grand Prix of Italy, and Sebastian Vettel proved it by clocking the quickest time in Free Practice 3. But Mercedes driver Lewis Hamilton managed to split the Ferraris by turning a faster lap time than Kimi Raikkonen.
The line-up for the weekend was: Mercedes - Hamilton and Valtteri Bottas; Ferrari - Vettel and Raikkonen; Red Bull TAG Heuer - Daniel Ricciardo and Max Verstappen; Racing Point Force India Mercedes - Sergio Perez and Esteban Ocon; Williams Mercedes -Lance Stroll and Sergey Sirotkin; McLaren Renault - Fernando Alonso and Stoffel Vandoorne; Renault - Nico Hulkenberg and Carlos Sainz; Toro Rosso Honda - Brendon Hartley and Pierre Gasly; Haas Ferrari - Romain Grosjean and Kevin Magnussen; Sauber Ferrari - Marcus Ericsson and Charles Leclerc.
The Ferrari drivers were quickest in FP2 on Friday, with Vettel topping the times with a 1:21.105 on Pirelli's super softs. But the Scuderia men were taking nothing for granted.
"I have no idea what the others were doing and I'm not really interested," Raikkonen said after FP2. "There was not much running, but it was a normal Friday."
What the others were doing, especially the Mercedes team, was worrying if Ferrari was uncatchable.
Meanwhile, the Sauber crew had worked all night building up a new chassis after Ericsson's had been destroyed in hjis crash in FP2 because of a DRS failure. He and the car were ready to go in FP3.
The ambient temperature at the start of the 60-minute session was 63 degrees Fahrenheit (17 degrees Centigrade) and the track temperature was 81 degrees Fahrenheit (27 degrees Centigrade).
Rain earlier in the morning had left a few damp patches on the track, but the drivers were on slicks. Pirelli's compounds for the weekend were the medium, soft and super soft.
Ericsson head out early to do a lap and check the rear wing's DRS.
"The track is pretty greasy," Gasly radioed. And that is why most drivers were waiting in the pits.
Only three set lap times, with Alonso fastest at 1:23.903.
Twenty minutes into the session Raikkonen headed out on the super soft Pirellis and clocked a 1:21.484 followed by a 1:21.399. Hamilton, also on the super softs, managed a 1:21.692.
Vettel then had a go on the supers and turned a 1:22.005.
Twenty-six minutes into FP3 Hamilton improved to a 1:21.392. Vettel's next attempt ended with a flat-spotted tire.
At the halfway mark the order was: Hamilton, Raikkonen, Vettel, Verstappen, Bottas and Ricciardo.
And now the drivers and teams prepared for their qualifying simulations on the super soft tires.
Vettel went to the top with a time of 1:21.035. Raikkonen was just 0.087 of a second slower. But not for long as Vettel got down to a 1:20.509. Then Raikkonen improved to a 1:20.682.
Mercedes and Red Bull had yet to do their qualifying sims with 15 minutes to go. A few minutes later Hamilton's attempt got him into second with a 1:20.676.
Bottas' lap put him fourth in the line-up. Hamilton then improved to a 1:20.590, which was just 0.081 slower than Vettel's best.
So it was now Vettel, Hamilton, Raikkonen, Bottas, Verstappen, Magnussen, Ocon, Ricciardo, Leclerc and Grosjean.
The top 10, with the split Ferraris, remained the same as FP3 came to a close.