Canadian GP 2018
JUNE 9, 2018
Practice 3 Report - A Good Feeling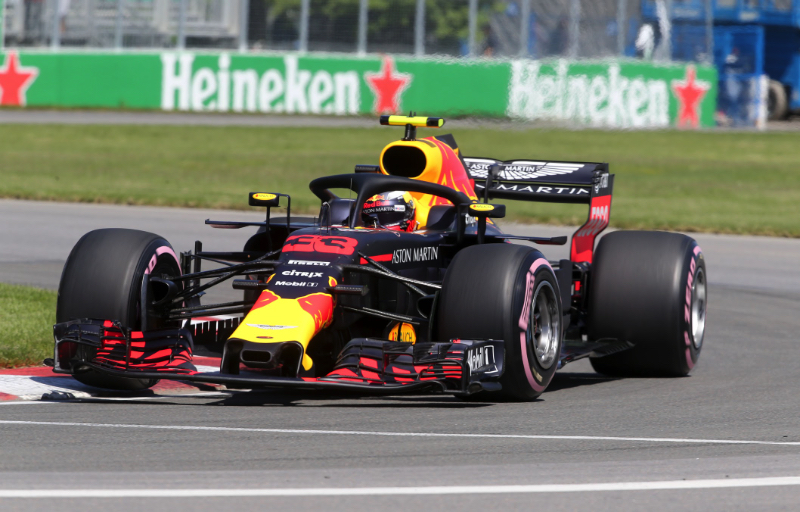 © RV Press
By Dan Knutson in Montreal
"I have a good feeling," Max Verstappen said about the speed and the potential of his Red Bull after setting the fastest time on Friday. He was feeling even better Saturday after topping Free Practice 3 for the Canadian Grand Prix.
The line-up for the weekend was: Mercedes - Lewis Hamilton and Valtteri Bottas; Ferrari - Sebastian Vettel and Kimi Raikkonen; Red Bull TAG Heuer - Daniel Ricciardo and Verstappen; Force India Mercedes - Sergio Perez and Esteban Ocon; Williams Mercedes -Lance Stroll and Sergey Sirotkin; McLaren Renault - Fernando Alonso and Stoffel Vandoorne; Renault - Nico Hulkenberg and Carlos Sainz; Toro Rosso Honda - Brendon Hartley and Pierre Gasly; Haas Ferrari - Romain Grosjean and Kevin Magnussen; Sauber Ferrari - Marcus Ericsson and Charles Leclerc.
Verstappen had turned the fastest lap in FP2 the day before - a 1:12.198 - on Pirelli's hyper soft slicks.
"The car is working very well," he said Friday. "We did not really change a lot initially and that's always a good sign and gives you hope. I think we looked quite competitive and it was a positive start to the weekend. Mercedes was very quick, but I think we are not too far away.
"The tires worked well, we were quite fast and to see it in the long run, we can be even faster. The car did everything it should do, it started well straight away so I just followed the track. We are still lacking a bit of top speed, but we can make some improvements and tonight we will see what we can do. But so far everything went well and I have a good feeling."
But Mercedes had used only Pirelli's super soft and ultra soft tires on Friday, not the faster hyper softs, so the team had not revealed its true potential. As it turned out, the Mercs would struggle on the hypers.
Ericsson and Grosjean were the first out in FP3.
The ambient temperature at the start of the 60-minute session was 66 degrees Fahrenheit (19 degrees Centigrade) and the track temperature was 93 degrees Fahrenheit (34 degrees Centigrade).
Raikkonen clocked the first time, a 1:12.931, which he followed up with a 1:12.359. Pole last year went to Hamilton's 1:11.459.
The Merc drivers stayed in the pits in the early going, and nearly 15 minutes had gone by before ventured out. Shortly thereafter Vettel popped to the top with a 1:12.235.
Fast Friday man Verstappen, meanwhile, only ventured out 20 minutes into the session. The order at that time was Vettel, Raikkonen, Hamilton, Bottas, Ricciardo and Gasly. But Verstappen's first flier put him up to third.
Mercedes was once again concentrating on using the ultra soft tires so as to conserve its supply of the hyper soft Pirellis. Hamilton used the tires to get within 0.066 of a second of Vettel's best.
Halfway through FP3 Ricciardo had a go on the hypers and moved from sixth to fifth. So the order was now Vettel, Hamilton, Raikkonen, Verstappen, Ricciardo, Bottas, Ocon and Perez.
Then, with 24 minutes remaining, Vettel did a hyper run but encountered traffic and could not improve.
Others were doing their hyper qualifying sims now. Raikkonen grabbed the lead with a 1:11.763. Vettel beat that with a 1:11.648. Ricciardo moved up to third. Raikkonen improved to get within 0.002 of a second of his teammate.
Hamilton, fourth, then did run on the hyper soft tires as did Bottas, fifth. They did not get near the front, however.
Now it was Verstappen's turn. He was sixth. And then he was first with a 1:11.599.
And so the FP3 session ended with the good feeling Verstappen out front ahead of Vettel, Raikkonen, Hamilton, Ricciardo, Bottas, Perez, Hulkenberg, Grosjean and Vandoorne.