Canadian GP 2018
JUNE 8, 2018
Practice 2 Report - On the move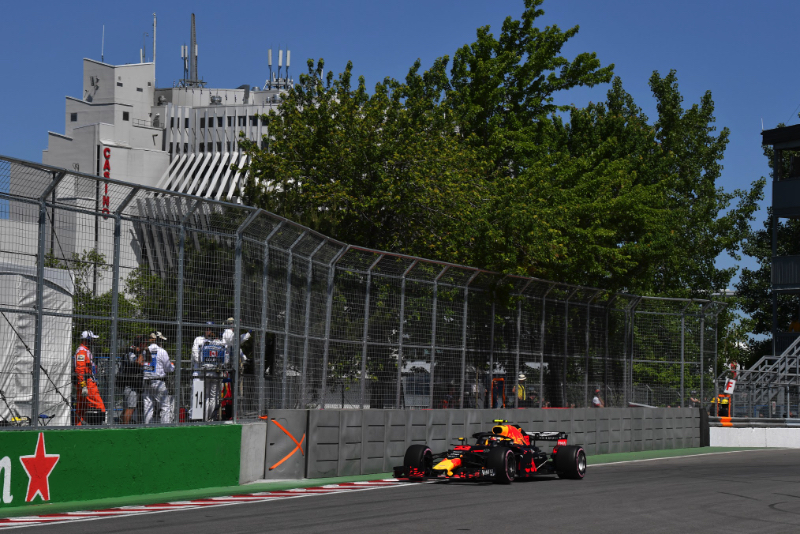 © RV Press
By Dan Knutson in Montreal
Max Verstappen is a driver on the move. A move to the front that is. After setting the fastest lap time in Free Practice 1 for the Canadian Grand Prix he did the same thing again in Free Practice 2 that afternoon.
The line-up for the weekend was: Mercedes – Lewis Hamilton and Valtteri Bottas; Ferrari – Sebastian Vettel and Kimi Raikkonen; Red Bull TAG Heuer – Daniel Ricciardo and Max Verstappen; Force India Mercedes – Sergio Perez and Esteban Ocon; Williams Mercedes –Lance Stroll and Sergey Sirotkin; Renault – Nico Hulkenberg and Carlos Sainz; Toro Rosso Honda – Brendon Hartley and Pierre Gasly; Haas Ferrari – Romain Grosjean and Kevin Magnussen; McLaren Renault – Fernando Alonso and Stoffel Vandoorne; Sauber Ferrari – Marcus Ericsson and Charles Leclerc.
Best in FP1 had been Verstappen with his lap of 1:13.302 on Pirelli's hyper soft tires. The other two slick compounds Pirelli had on offer were the super soft and ultra soft.
Raikkonen was out first in FP2.
The ambient temperature at the start of the 90-minute session was 70 degrees Fahrenheit (21 degrees Centigrade) and the track temperature was 111 degrees Fahrenheit (44 degrees Centigrade).
Fourteen minutes into FP2 Raikkonen was out front with a 1:14.382.
A number of drivers didn't go out early on including the Mercedes teammates, Vettel, Verstappen and Alonso.
When Hamilton ventured out he ventured to the top after turning a 1:13.347. Bottas slotted into second, 0.463 of a second slower than his teammate. But then Verstappen split the pair with a time of 1:13.712.
Then, 20 minutes in, Hamilton turned up the wick and got down to a 1:13.031. Bottas soon reclaimed second.
And so, 25 minutes in, the top six were: Hamilton, Bottas, Verstappen, Alonso, Raikkonen and Sainz.
Sainz spun and backed lightly into the wall, and that brought out the red flags because of debris at the 26-minute mark. His teammate Hulkenberg caused a red flag in FP1 when his car broke down.
After a six-minute delay the session restarted. The top ten at that point, with 58 minutes remaining, was: Hamilton, Verstappen, Bottas, Vandoorne, Alonso, Raikkonen, Sainz, Leclerc, Ocon and Perez.
Now Hamilton really started flying as he slammed in a 1:12.777. Other drivers were now also doing qualifying sims on the hyper soft tires. Raikkonen jumped up to second. But Verstappen beat Raikkonen's time with his 1:12.858.
Ricciardo, meanwhile, was in the pits having his car worked on. Raikkonen wasn't in the pits as he lowered the times to a 1:12.328.
As the midpoint of FP2 approached, the top six were: Raikkonen, Hamilton, Verstappen, Bottas, Ocon and Leclerc.
But Verstappen was on the move, and he turned a 1:12.198 on the hyper softs to get up front. Teammate Ricciardo was at the bottom of the pile having done just four laps. Vettel was also having problems and was in 13th place with 36 minutes remaining in the session.
Vandoorne was going to need repairs as well as he hit the wall and broke the rear suspension on the McLaren. That brought out the VSC.
When the VSC period ended, 29 minutes remained in FP2.
Vettel used the ultra softs and got up to fourth with traffic on his run, but the Mercedes drivers elected not to use the hypers in the session.
With 20 minutes to go the. Ricciardo, still stuck in the garage, finally got out a minute later.
Most of the drivers were now doing their long runs on worn tires and heavy fuel. Ricciardo, on new super softs, therefore had plenty of traffic. He got up to 14th on that run and pitted.
Next Ricciardo tried the hyper softs and clocked a 1:12.980 that put him fourth. He moved to third after setting a 1:12.603, which was 0.405 of a second off of Verstappen's best.
At the end of FP2 the top 10 were: Verstappen, Raikkonen, Ricciardo, Hamilton, Vettel, Bottas, Grosjean, Ocon, Perez, and Alonso.