Canadian GP 2019
JUNE 8, 2019
Qualifying Report - Hard to crack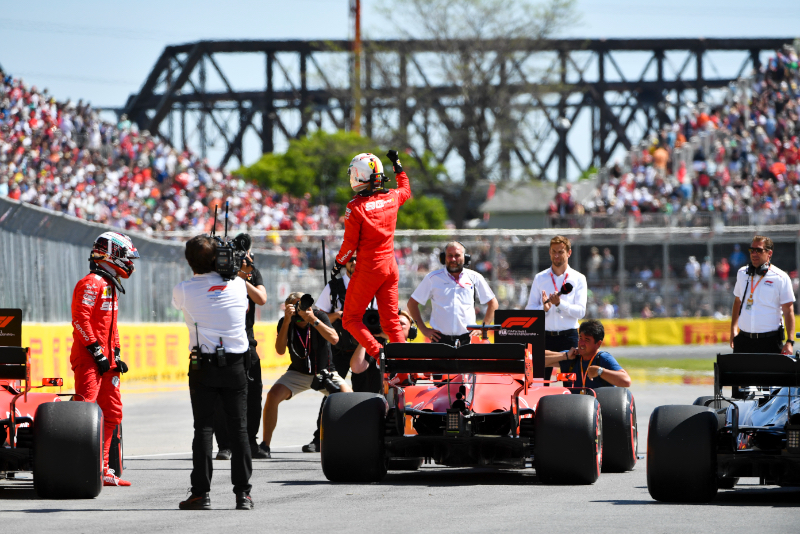 © RV Press
By Dan Knutson in Montreal
Sebastian Vettel earned his first pole in 17 race weekends when he beat out Lewis Hamilton in qualifying for the Canadian Grand Prix.
"He is bloody good in qualifying, hard to crack," Vettel said of Hamilton who has won many of the poles in those 17 races.
The line-up for the weekend was: Mercedes – Lewis Hamilton and Valtteri Bottas; Ferrari – Vettel and Charles Leclerc; Red Bull TAG Heuer –Max Verstappen and Pierre Gasly; Renault – Daniel Ricciardo and Nico Hulkenberg; Haas Ferrari – Romain Grosjean and Kevin Magnussen; McLaren Renault – Carlos Sainz and Lando Norris; Racing Point Mercedes – Sergio Perez and Lance Stroll; Alfa Romeo Ferrari – Kimi Raikkonen and Antonio Giovinazzi; Toro Rosso Honda – Daniil Kvyat and Alexander Albon; Williams Mercedes – George Russell and Robert Kubica.
Vettel went quickest in FP3 earlier in the day with a time of 1:10.843.
QUALIFYING 1
The ambient temperature at the start of the 60-minute session was 70 degrees Fahrenheit (21 degrees Centigrade) and the track temperature was 117 degrees Fahrenheit (46 degrees Centigrade).
First out in the 18-minute Q1 was Kubica.
The Canadian fans were hoping to see Montreal's Stroll out there as well. His Racing Point needed repairs after a fire-blazing exit from FP3. And they got their wish as his car was indeed ready for Q1 and now fitted with an older-spec Mercedes V6.
Leclerc turned a 1:11.786, and then Vettel crossed the line half a second adrift. Verstappen grabbed second place ahead of Hamilton, Bottas and Gasly, which was the order with eight minutes remaining.
As the cars continued to circulate, Leclerc got down to 1:11.481, and Hamilton to a 1:11.581.
With five minutes to go, Magnussen was 15th and on the cut line with Giovinazzi 14th and Albon 16th.
The order at the front continued to change, with Bottas first only to be replaced by Leclerc who was replaced by Vettel.
So too did the order on the 15th place bubble.
The five drivers who were eliminated at the end of Q1 were: Perez, Raikkonen, Stroll, Russell and Kubica.
The fastest 15 drivers who moved on to Q2 were: Vettel, Leclerc, Bottas, Hamilton, Verstappen, Hulkenberg, Sainz, Norris, Ricciardo, Kvyat, Albon, Gasly, Magnussen, Grosjean and Giovinazzi.
QUALIFYING 2
Q2 lasted 15 minutes.
The Mercedes drivers headed out on Pirelli's medium compound tires. The Ferrari drivers follow suit.
Hamilton clocked a 1:11.336. Vettel beat that with his 1:11.309. After a slow lap that put him fifth, Bottas moved to third.
Giovinazzi was fourth ahead of Leclerc and Giovinazzi with 10 minutes to go.
Then Leclerc's 1:11.205 put him briefly first until Vettel set a 1:11.142.
With five minutes remaining, Magnussen was 10th and on the bubble, with Norris ninth and Verstappen 11th. The latter had attempted to get into Q3 using the medium tires, but that had not worked because he had traffic so he switched to the soft Pirellis.
Then Hamilton went to the top at 1:11.010 and Bottas grabbed second with a 1:11.095.
Magnussen tagged the Wall of Champions just as the checkered flag came out. That kicked him across the wall and hard into the pit wall.
Out came the yellow flags and the then reds. And that ruined the last laps of several drivers including his teammate Grosjean and Verstappen.
The five drivers who were eliminated at the end of Q2 were: Verstappen, Kvyat, Giovinazzi, Albon and Grosjean.
The fastest 10 drivers were: Hamilton, Bottas, Vettel, Gasly, Leclerc, Ricciardo, Hulkenberg, Sainz, Norris and, ironically, Magnussen.
QUALIFYING 3
Twenty-five minutes after the red flags, during which the track was cleaned up and the wrecked car removed, Q3, which would last 12 minutes, began.
Gasly headed out alone. Just after he started his flying lap the other drivers joined him. Gasly posted a 1:12.185.
Leclerc was going fast: 1:11.188. But then came Vettel at 1:10.681 and Hamilton at 1:10.493.
Bottas had a spin but didn't hit anything. He pitted for new tires.
Of those who had set times, the order was Hamilton, Vettel, Leclerc, Hulkenberg, Gasly, Ricciardo and Sainz.
So as usual it would come down to everyone blasting around in the final couple of minutes. All nine bar Magnussen headed out.
Hamilton improved to a 1:10.446 only to have Vettel take the pole with a 1:10.240.
Leclerc was third ahead of Ricciardo who was a fine fourth. Gasly, Bottas, Hulkenberg, Norris and Sainz rounded out the top nine.