Canadian GP 2019
JUNE 8, 2019
Practice 3 Report - Ferraris foremost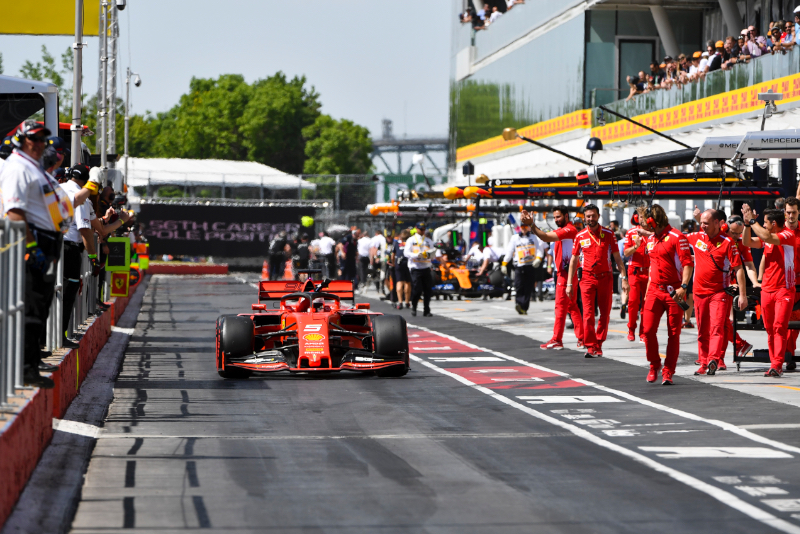 © RV Press
By Dan Knutson in Montreal
The Ferraris of Sebastian Vettel and Charles Leclerc were at the front of Free Practice 3 for the Canadian Grand Prix.
The line-up for the weekend was: Mercedes – Lewis Hamilton and Valtteri Bottas; Ferrari – Vettel and Leclerc; Red Bull TAG Heuer –Max Verstappen and Pierre Gasly; Renault – Daniel Ricciardo and Nico Hulkenberg; Haas Ferrari – Romain Grosjean and Kevin Magnussen; McLaren Renault – Carlos Sainz and Lando Norris; Racing Point Mercedes – Sergio Perez and Lance Stroll; Alfa Romeo Ferrari – Kimi Raikkonen and Antonio Giovinazzi; Toro Rosso Honda – Daniil Kvyat and Alexander Albon; Williams Mercedes – George Russell and Robert Kubica.
Leclerc set the bar on Friday with a time of 1:12.177.
"I still believe Mercedes is very, very strong," the Ferrari driver said after FP2, "and I expect them to be very hard to beat them in qualifying. So we need to work very hard. We did a good step from FP1 to FP2, the car felt better, but we should do another step to hopefully challenge on Saturday."
Hamilton crashed early in FP2 on Friday.
"I don't remember the last time I missed a whole session before," Hamilton said. "It's definitely not great to watch the session from the garage; it feels like sitting in the headmaster's office, wishing to be back in class. I had a big snap out of Turn 9 and was drifting for a long time, hoping I wouldn't hit the wall. But these things happen; you just have to put it behind straight away you and get back on the horse."
Lando Norris was the first out.
The ambient temperature at the start of the 60-minute session was 64 degrees Fahrenheit (18 degrees Centigrade) and the track temperature was 99 degrees Fahrenheit (37 degrees Centigrade).
Only nine drivers bothered to do an installation lap in the early going, and Kubica was the only one to do any flying laps.
After doing seven laps Kubica pitted and the track was quiet.
After about 20 minutes the drivers went to work. Vettel, on Pirelli's soft compound slicks, set a lap time of 1:12.478. That was 0.136 quicker than Leclerc, 0.205 over Bottas and 0.257 better than Hamilton.
Then, at the 25-minute mark, Leclerc got down to 1:11.596. Vettel improved to a 1:11.706 and then a 1:11.557.
All the drivers were on track save Stroll who had a hydraulic leak on his car complete with flames as he came into the pits.
Midway through FP3 the order was: Vettel, Leclerc, Hamilton, Bottas, Verstappen, Gasly, Norris, Albon, Kvyat and Perez.
A few minutes later Hamilton improved to 1:11.866 and remained in third place.
Meanwhile, the groundhogs were back. Raikkonen had to swerve to miss one at Turn 6.
With about 20 minutes to go all the drivers were in the pits preparing for their qualifying sims. So the groundhogs had the track pretty much to themselves.
Bottas was the first to head back out. He had a clear track and set a time of 1:11.531 to take the lead.
And then his teammate and the Ferrari drivers joined the action.
Vettel got in front at 1:11.478, but then Leclerc beat that with his 1:11.058.
Hamilton was faster in the first two sectors but lost out in the third, and his 1:11.236 put him second. Vettel improved but was third.
Leclerc, Hamilton, Vettel, Bottas, Norris, Verstappen, Albon and Gasly was the order with nine minutes remaining.
A minute later Vettel popped up front at 1:10.843 while Leclerc slid off at Turn 1 after doing a 1:10.982.
The order behind Verstappen, now fifth behind Vettel, Leclerc, Hamilton and Bottas, continued to change in the final minutes.
And when it was all over, the top 10 were: Vettel, Leclerc, Hamilton, Bottas, Verstappen, Gasly, Ricciardo, Norris, Perez and Kvyat.