JULY 20, 2003
Pizzonia out, Wilson to Jaguar, Kiesa to Minardi?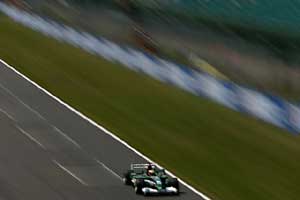 There has been a lot of action all weekend at Jaguar Racing about the future of Antonio Pizzonia. The Brazilian has disappointed the team this year and there have been rumors for some time that the Brazilian was to be replaced. Jaguar was rumored to be close to just such a deal in Barcelona a few months ago with McLaren test driver Alexander Wurz. That was not possible because the Austrian was unable to get out of his contract and so Jaguar decided to stick with Pizzonia. In recent weeks however the urge for change has returned and while Wurz's name has been mentioned the real thrust of Jaguar policy has been to get a deal with Minardi driver Justin Wilson. Our sources say that a few days ago Wilson snuck into the Jaguar factory at Milton Keynes to see if he could fit his lanky frame into a Jaguar chassis.

In the course of the Silverstone weekend the story began to break although all those involved denied that anything was going on. Our sources suggest that the outline of a deal has been struck with Wilson moving to Jaguar and being replaced at Minardi by Denmark's Nicholas Kiesa, who has been driving this year in Formula 3000 with the Den Bla Avis team. Kiesa won the Formula 3000 race in Monaco after Bjorn Wirdheim stopped before the finish line to wave to his team. Kiesa has considerable backing from Peugeot.

There are however still problems to be overcome with the need for some kind of settlement to be found with Pizzonia and the need for money to move around between the various parties but we believe that if all the issues involved are settled there will be some kind of announcement in the next few days.