Drivers
Kimi Raikkonen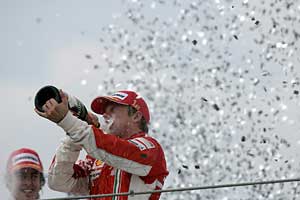 Raikkonen started karting at the age of 12 and enjoyed considerable success in the sport before turning to single-seater racing in 1999 for four races in British Formula Renault. He had a few outings in Formula Ford and then decided to concentrate on Formula Renault and entered the Winter Series in Britain with Manor Motorsport. He won all four events. He stayed with Manor for the 2000 season and won seven of the 10 races and was on the podium in the other three events. He also took part in three European races, winning two of them.

Such was his success that in September 2000 the Sauber team tested him at Mugello and immediately decided to sign him up for 2001 as team mate to Nick Heidfeld. It proved to be an inspired choice and Raikkonen finished sixth on his Grand Prix debut in Australia and went on to score on three more occasions (twice finishing fourth) in the midseason. McLaren decided in August to make a bid for the Finnish driver to replace Mika Hakkinen and he was signed by McLaen on a five year deal in September. In 2002 he failed to win a race but looked strong on several occasions and he won his first F1 victory in Malaysia in 2003. There would be more than 18 months of frustration with poor cars before he won again in Belgium in 2004.

In 2005 he was joined at McLaren by Juan Pablo Montoya. The team was very competitive and Raikkonen won a string of races and would have won the World Championship but for poor reliability.

There was further frustration in 2006 as the McLaren was not fast enough and Raikkonen decided to take up the offer to join Ferrari in 2007, as replacement for Michael Schumacher.

The 2007 season started with a stunning pole position, fastest lap and victory in Melbourne in his first race with Ferrari - a feat not achieved since Nigel Mansell in 1989. He followed this with two podiums, but a string of four races seemed to indicate he was struggling against teammate Felipe Massa, who was profiting from detailed advice from Michael Schumacher, while Raikkonen seemed to disdain. This turned round quickly with successive wins in France and Britain as the Finn at last seemed comfortable with his car.

After 10 of the 16 races, Raikkonen was only fourth in the Championship standings behind the McLaren pair of Lewis Hamilton and Fernando Alonso, and Massa, 18 points behind Hamilton. From then on, he was never off the podium, whittling away at Hamilton's lead and winning in Belgium. But with only two races to go, victory over the McLaren steamroller still looked only an outside chance. The turning point was the Chinese race, which Raikkonen won while Hamilton slid off in the pit entry gravel trap and failed to finish. That made the final race in Brazil the decider, Raikkonen three points behind Hamilton and seven behind Alonso.

Victory at Interlagos gave the Finn the World Championship by a single points from Hamilton and Alonso, having won six races and scored six other podium places.

The 2008 season proved to be a disaster and by the end of the year there were rumours that Raikkonen would be retiring. Ferrari, however, stood by him and confirmed that he would continue in 2009 and 2010.

But things were destined to work out differently. In 2008, Raikkonen had won twice in the first four rounds and earned a second place as well. During the rest of the season he never won again, and only finished second one more time. He seemed to lose motivation. Teammate Felipe Massa was much stronger in the second half of the season, so Raikkonen had to play the support role in Massa's championship battle with Lewis Hamilton. Raikkonen ended up third in the final standings.

Raikkonen's hot and cold performances continued in 2009. He only finished in the points three times in the first nine races. After Massa's horrific accident in Hungary, Raikkonen went on a streak of four podium finishes that included a win in Belgium. But then he seemed to lose interest again. He placed sixth in the championship.

By now Ferrari had lost patience with the Finn, and the team was so anxious to begin its new era with Fernando Alonso that it bought out Raikkonen's 2010 contract by paying a large but undisclosed percentage of his $40 million retainer.

McLaren tried to hire Raikkonen for 2010 but negotiations broke down. His name was linked with Brawn/Mercedes and he also turned down an offer from Toyota. Finally, in November 2009, Raikkonen confirmed he would not race in F1 in 2010. Instead he signed on for a full season in the World Rally Championship with the Red Bull-backed Citroen team. It was a learning year for Raikkonen who had competed in only four rallies prior to 2010, none of them WRC events.

Raikkonen's manager talked to Renault about a possible F1 return in 2011, but Raikkonen opted to stay on in the WRC.