Drivers
Lewis Hamilton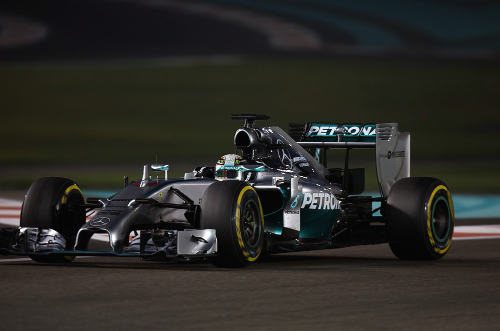 Lewis Hamilton's grandfather emigrated to Britain from Grenada in the 1950s. His son Anthony followed his father into the railway business but he eventually started his own IT business. When Lewis was five his father bought him a radio-controlled car and he was so successful with the car that he ended up on the national TV show Blue Peter, racing his car - at the age of just six. When he was seven his father gave him his first kart and in 1995 he won the British National Cadet Karting Championship. It was not long after that he introduced himself to McLaren boss Ron Dennis at an awards dinner and the first contact with McLaren was made. Dennis kept an eye on Hamilton and in 1997 signed a deal to help him develop his career. He enjoyed a highly successful career in karting winning a series of titles before signing to drive for Manor Motorsport in the Formula Renault winter series at the end of 2001. He stayed with Manor in 2002 and finished third in the championship with one victory and then dominated the series - still with Manor - in 2003. In 2004 he went with Manor to the Formula 3 Euroseries but won only one race although he finished fifth in the title. That year he tested for the McLaren F1 team for the first time. In 2005 he switched to the ASM team, which had won the title and he dominated the F3 Euroseries, winning 15 of the 20 races and moved up to the ART Grand Prix team in GP2. He was soon beating his more experienced team mate Alexandre Premat and in an impressive display of driving won the GP2 title at his first attempt. He was duly signed to race for McLaren in 2007 and was soon testing for the team.

His first F1 season started with Hamilton making a quick impression by finishing third in his first GP, in Australia. This was followed by eight consecutive podium finishes, including wins in Canada and the US, and a serious chance of getting the Championship itself, a feat unheard off by any previous rookie.

Sadly, in China, he ended up in the gravel pit when coming in for tyres and missed his chance. He returned stronger in 2008 and fought his way to a stunning World Championship showdown in Brazil, winning the title from Felipe Massa on the very last lap in Interlagos, when he overtook Timo Glock to grab the place he needed. Hamilton was honoured with an MBE by the British government.

Hamilton had won five times in 2008 - in Australia, Monaco, Britain, Germany and China - and started from the pole seven times. He won in Belgium, too, but the stewards penalized him for cutting a corner when passing Kimi Raikkonen and dropped him to third place. But he still racked up enough points to become the youngest ever world champion at the age of 23 years and 301 days.

After all the success in 2008, the first half of the 2009 season was very trying for the youthful Hamilton. The misery began in the season opener in Australia where Hamilton, prompted by McLaren Mercedes sporting director Dave Ryan, lied to race officials by saying that Jarno Trulli had purposely and illegally overtaken him during a safety car period. When all the evidence emerged, Hamilton was disqualified and McLaren fired Ryan. Hamilton called the whole affair the worst thing he''    '  'd experienced in his life.

Things weren''    '  't much better on the track where Hamilton finished in the points only three times in the first nine races. The McLaren Mercedes MP4-24 was off the pace because of aerodynamic deficiencies. Fortunately it had one of the best engines plus a Kinetic Energy Recovery System that was the class of the field. It was not until Hungary, round 10, that Hamilton won a race, and he earned four poles in the latter part of the season. A win in Singapore along with podiums in Valencia, Japan and Brazil pulled him up to a distant fifth in the drivers''    '  ' championship.

The 2010 McLaren Mercedes MP4-25 featured the innovative F-duct system which gave it superior speed on the straights, but it lacked downforce and didn''    '  't work well on bumpy tracks. Hamilton''    '  's talent allowed him to transcend what was an average car and pull off wins in Turkey, Canada and Belgium. That along with six podium finishes kept him in contention for the world championship right up to the final race. He led the championship twice during the season, but he lost vital points when he crashed while trying aggressive passes on Felipe Massa in Italy and Mark Webber in Singapore, as well as when the McLaren''    '  's gearbox broke in Hungary and the suspension failed in Spain.

Hamilton went into the season having told father Anthony that he was no longer his manager. That led to tension as Anthony had run Lewis''    '  's career since his karting days. Lewis had a new teammate in 2010 - 2009 world champion Jenson Button who had left Brawn Mercedes - and the two British drivers got along fabulously. In the early part of the season Button had the edge, but then Hamilton pulled ahead. Hamilton ended up fourth in the championship and Button fifth.

The year 2010 marked the beginning of Red Bull's domination in Formula 1, and Sebastian Vettel would win the world championship for the team for four consecutive years. Hamilton and the other drivers picked up the scraps. So three wins for Hamilton ''  ® in China, Germany and Abu Dhabi driving the McLaren MP4-26 ''  ® was not all that bad in 2011. But his teammate Jenson Button did a better job at scoring consistent points and podiums, and thus Button wound up second in the final standings while Hamilton was fifth.

Hamilton was involved in several shunts, including hitting Kamui Kobayashi at Spa, and tangling with Felipe Massa on several occasions. Off track, Hamilton had a meeting with Red Bull's Christian Horner in Montreal, which led to rumors that Hamilton would be leaving McLaren.

In 2012, however, Hamilton was back at McLaren and back to winning, taking victories in Canada, Hungary, Italy and in the inaugural United States Grand Prix at the new Circuit of the Americas near Austin, Texas. He would have won at least two more races but for errors by the team.

It was between the races in Singapore and Japan in 2012 that Hamilton made the decision to leave McLaren and join Mercedes in 2013 despite the fact that Mercedes had won just one grand prix since its return to F1 in 2010.

"It has been very, very stressful," Hamilton told the Daily Telegraph. "I've been with this team since I was 13 and met Ron [Dennis, McLaren chairman] when I was 10. My dream back then was to race for this team. It was a little bit like a pendulum because one moment I would think, 'Let's go for it', the next I would think 'I'm going to stay'. That's why I took my time; because I wanted to make sure I stuck with one of [those feelings]."

"I wasn't going to be pushed and rushed, although there was a lot of pressure. Martin [Whitmarsh, McLaren team principal] had been asking me when I was going to do a deal since China last year. I had a couple of deadlines; I didn't meet any one of them. It was really, really tough but once I made the decision I was so much more relaxed."

"I've had such a great career with McLaren. I signed for McLaren when I was 13 and have had such an incredible journey with them. But in the end I had two offers on the table which were very similar but one was a lot more exciting. It's just a challenge. I could stay in the great car that I have, which I've worked really hard to help develop with the team, or go to a car that's not so well developed and help it.

"No doubt it was one of the most difficult decisions I've faced in my life up to now."

Many people thought that Hamilton had made a mistake, but they were wrong and he was right. He won only once in 2013 ''  ® in Hungary ''  ® but could have won at home if he had not had a flat tire. He also had 12 other top five finishes and took fourth in the championship. It took him a while to settle into the team and get used to the car which had been designed to Michael Schumacher's taste. Hamilton particularly had problems getting the brakes adjusted to suit his driving style.

The year 2013 marked the end of the Red Bull domination. The complete revamp of the rules and the introduction of the new power plants in 2014 swung the balance of power in the direction of Mercedes. Hamilton and teammate Nico Rosberg dominated the 2014 season, taking all but three victories in 19 races.

An engine problem took Hamilton out of the season opener in Australia, but he then won the next four races in a row. Then came Monaco where Rosberg bumbled his qualifying lap which in turn ruined Hamilton's chance at the pole. Hamilton was not a happy man, and had to settle for second place in the race behind Rosberg. A lean period ensued for Hamilton who had one ''  ® in Britain ''  ® in the next six races.

Hamilton and Rosberg clashed in Spa when Rosberg refused to back off from a failed overtaking attempt. Hamilton took the lead at the start and led lap one. Rosberg tried to pass him on lap two, but Rosberg's right front wing sliced into Hamilton's left rear tire. A furious Hamilton pitted for new tires. His race was over and the team eventually withdrew his car. Daniel Ricciardo won the race in his Red Bull.

Team bosses Toto Wolff and Niki Lauda were furious at Rosberg and blamed him for the crash that cost the team the win. Hamilton was seething as well.

"It looked quite clear to me but we just had a meeting about it and he basically said he did it on purpose," Hamilton said after the race. "He said he did it on purpose, he said he could have avoided it. He said 'I did it to prove a point', he basically said 'I did it to prove a point'. And you don't have to just rely on me, go and ask Toto (Wolff), Paddy (Lowe) and all those guys who are not happy with him as well. I was gobsmacked when I was listening to the meeting. You need to ask him what point he was trying to make."

Spa marked the height of the tension between Rosberg and Hamilton who eventually settled their differences. Hamilton then rebounded with five consecutive wins.

A spin in Brazil put Hamilton into second place and Rosberg won. The championship was still not settled as the teammates lined up for the season finale in Abu Dhabi. Hamilton stormed to the victory while Rosberg faded out of the points with engine woes.

And so Hamilton clinched his second championship.

"I'm a bit lost for words really," he said on the podium. "I think one thing I want to say is a big, huge thank you to all the fans coming out all this way, all the flags, all the caps, everything, it made such a difference this weekend. Also to my family, thank you guys, thank you so much for coming, I really, really do appreciate it. My mum back home. And my team, who throughout the year did an incredible job and without them I wouldn't be here today. I can't really explain how much this means. It means even more than the first one. It feels like it's the first time. I feel so blessed."

He followed that up by winning his third title in 2015, racking up 10 victories during the season. Rosberg didn't let Hamilton run away with things, and there was again tension between the teammates especially when Rosberg felt that Hamilton was being too aggressive in his passing moves. Hamilton clinched the championship at the U.S. Grand Prix after scoring three consecutive wins. But then Rosberg went on a roll and won that last three races while Hamilton finished second.

During the 2015 season Hamilton and Mercedes renewed their deal to last through 2018.

Rosberg's run continued as he won the first four races in 2016. Then came the Spanish Grand Prix where the two Mercedes teammates managed to crash into each other on the opening lap, leaving Red Bull's new teenaged recruit Max Verstappen to win his first F1 race.

Hamilton then went on a win binge with six victories in the next seven rounds. But mechanical and reliability woes blunted his championship charge, and Rosberg reclaimed the points lead with three wins. Hamilton then won the final four races and still had a chance to claim the title in the final race, but Rosberg's second place in Abu Dhabi meant that he clinched the title by five points.

Rosberg surprised everybody with his sudden retirement announcement in December, and so Mercedes recruited Valtteri Bottas to be Hamilton's teammate in 2017. Hamilton's main rival in 2017 turned out to be Ferrari's Sebastian Vettel. One of the highlights of the season was Hamilton closing in on Michael Schumacher's all-time pole record of 68 pole positions.