JANUARY 31, 2003
More on the FW25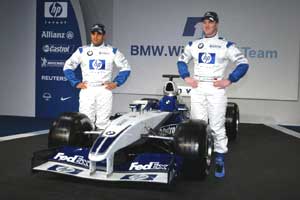 The Williams team has been talking about its new FW25 challenger and Sir Frank Williams admits that winning the World Championship will "not be a summit that will easily be conquered. We are well prepared and completely determined to get to the top. We have a new, innovative chassis - the FW25 - ready. The new car is the product of a completely different way of thinking. And with the P83, BMW has developed another new and more powerful engine. With Juan Pablo Montoya and Ralf Schumacher we have two winning drivers ably assisted by a skilled and committed team."
Patrick Head said that the new car was a big change for the team.
"The 2002 season showed us that our chassis was a model of reliability, but that there's still room for improvement particularly on the aerodynamic front. That's why the FW25 is not an iteration but a completely new race car."
BMW Motorsport boss Mario Theissen said that BMW will be aiming for more power and better reliability with the new V10 engine.
"We have built an even more powerful engine," he said. "Yet again, we were the first to test it on the track, even earlier than last year. The P83, like its two predecessors, is designed to be the most powerful engine in Formula 1. After managing to pass the threshold of 19,000 revolutions a minute in 2002, we intend to exceed this in 2003. At the same time, our ten-cylinder unit is set to become even more reliable next year."
But Williams chief designer Gavin Fisher did admit that there are areas in the relationship between Williams and BMW which do make things more complicated.
"The first thing to recognize is that we are not under one roof," he said "We have to look at the situation we have and turn that to an advantage by making full use of the resources in both companies."