JANUARY 27, 2003
After Austria...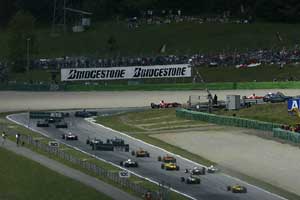 Modern contracts between Formula One Management and the individual race organizers include a clause which states that if the law in that country relating to tobacco sponsorship is changed the contract can be declared null and void. To date this has not been used to terminate any events but, as a result of the European Union's refusal to compromise on its tobacco ban, the Austrian Grand Prix has now been thrown off the F1 calendar in 2004, despite the fact that there was a contract in place until 2006.
This is particularly unfortunate for Austria as it was one of the European Union member states which did most to try to stop the legislation, voting against the European anti-tobacco directive in December 1997. That law was later thrown out by the European Court of Justice, which ruled that the legislation was illegal but European Health Commissioner David Byrne has since revamped the directive. Byrne decided to bring the starting date of the new directive forward by a year and the result of this is that Formula One Management has used its get-out clause and the Austrian GP is dead.
It is unlikely that it will be the last European Union GP to get the chop with at least one other likely victim needed to make way for new races in 2004. Belgium has already been axed because of the tobacco issue and with Austria following there is now room on the 2004 calendar for Grands Prix in both Bahrain and China. With Turkey and Russia both aiming for races in 2005 two more European events will probably have to go. The most likely targets now are the European GP (a second race held in Germany) and Italy's second race - the San Marino GP at Imola. Having said that the French GP is by no means safe and it is quite possible that the British GP might also been in the firing line.
With the current F1 contracts it does not seem to matter whether a deal is in place or not so any of the big races could be chopped if FOM chooses to do so. The problem for the European events is that FOM contracts tend to be for five years or more and so each race lost in Europe will be lost at least until 2009 and beyond.