JANUARY 21, 2003
Jaguar's R4 unveiled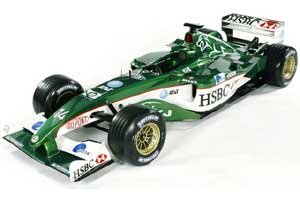 Jaguar Racing has unveiled its R4, which the team says will build on the lessons learned in 2002 with the troublesome R3 chassis. The new car is the work of a design team led by the team's new managing-director Dave Pitchforth with Ben Agathangelou leading the aerodynamic department, Rob Taylor heading design and Dr. Mark Gillen in charge of vehicle performance.
"Even though we began last season with a less than satisfactory race car," says Pitchforth, "we actually finished the season with a sound platform that has benefited some areas on R4. With that in mind, we have not taken a radical approach to R4. Some would say that we have gone back to basics but overall, we have opted for a conventional, low risk and robust design."
"We focused on absolutely everything to ensure that we contest the season with a race car that is capable of being competitive and finishing races reliably. It sounds obvious, I know, but that's not how Jaguar Racing began last season and by the time we had worked out the problems with R3, most of the season had passed us by."
The Jaguar R4 will be powered by an all-new Cosworth CR-5 V10 engine, the first time that Cosworth Racing has gone racing with a 90-degree engine.
"The reason we've gone to 90 degrees for 2003 is in the interests of improving the centre of gravity," says Nick Hayes. "Rob White and his team have done a fabulous job - a lot of good, clever design. I'm not going to quote precise figures for CR-5, but I can tell you that it is the highest-revving engine Cosworth Racing has ever built.
The Jaguar R4 was straight-line tested last Friday at Ford Motor Company's Proving Ground in Lommel, Belgium and will today run for the first time on a Grand Prix circuit at the Circuit de Catalunya.