JANUARY 25, 2002
Sauber aims for fourth place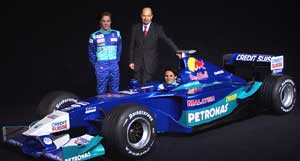 PETER SAUBER launched his 2002 package at the Swiss National Military Aviation Museum in Zurich, saying that the best that the team can hope for is fourth in the World Championship.
"We achieved an optimum result in 2001," Sauber said. " From our point of view it was even the maximum. Nevertheless we are accepting the challenge in our 10th year in the exclusive circle of F1. The team is very motivated. We want to prove to ourselves and to our partners that we are capable of renewing our extraordinary results this year."
The C21 is a development of the successful C20 but is a completely new car.
"Our main aim," said Sauber technical director Willy Rampf, "was to further improve the car's aerodynamic efficiency."
Weight has been reduced and the center of gravity lowered.
The team's sponsorship package remains much the same although Red Bull is no longer the title sponsor.