JANUARY 23, 2002
Watch out for the bullets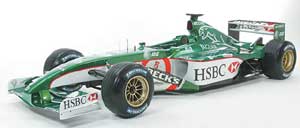 WHEN Jaguar decided not to go down to Barcelona but instead concentrate on trying to sort out a front wing aerodynamic problem at Lurcy-Levis in France, the writing probably went up on the wall for the design team - despite the fact that they have been working without a decent windtunnel program.
There were high hopes that the Jaguar R3 would be better than the less-than-magnificent R2 but early tests were very disappointing. The team's credibility, at a time its parent company Ford is slaughtering jobs, needs to be rather more positive than it has been in recent weeks. There have been a lot of press reports in Britain that Jaguar is in trouble and the team is trying to play down the situation saying that nothing major is going to change on the car. The truth is that nothing major can change on the car. A basic chassis takes months to be fixed - if that is the problem. In all probability the problem lies in the front wing aerodynamics, which is a very difficult business to solve these days.
There are a lot of heads on the block if things do not get better... The problem is that if Jaguar is not careful it is going to spend the rest of the season playing catch up with the other teams.