JANUARY 19, 2002
Radical new McLaren-Mercedes MP4/17 unveiled in Barcelona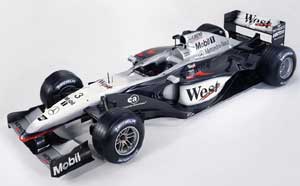 THE mood was distinctly upbeat and cautiously optimistic at Barcelona's Circuit de Catalunya today (Saturday) when the striking new McLaren-Mercedes MP4/17 was officially unveiled two days after test driver Alexander Wurz gave the car a preliminary shakedown at Silverstone. Team drivers David Coulthard and Kimi Raikkonen were also on hand to take over the car after the Austrian gave it its first run, both men holding out great hopes for the new car's debut in the Australian GP on March 3.
The new car is powered by a totally new Mercedes F0110M V10 engine which features a wider vee angle than last year's 75-degree unit, but Mercedes F1 boss Norbert Haug proved unexpectedly coy about confirming or denying whether it was now a 90-degree unit as widely predicted.
The most visually striking element of the MP4/17's design configuration is the dramatically sculptured aerodynamic lower front wishbones and the whole treatment of the front suspension, while the rear bodywork has also slightly different treatment. The decision to switch to Michelin rubber has entailed more significant design implications, some of which were only fully evaluated when testing began earlier this month with the interim MP4/16 test cars.
"Tires can have a considerable effect on the weight of the steering, the aerodynamics and the whole balance of the car," said Technical Director Adrian Newey, "but there is only so much that you can learn from testing in simulated conditions. Tire characteristics are influenced by a great many variables. By the condition of the asphalt on the track, the ambient temperature and the way the car is set-up and, as a result, they will respond in a very non-linear manner. So it is a very difficult think to model.
"Having had to wait until January before we started track testing meant that if we had found at that stage that we had any difficulties in suiting the car to the Michelin tires then we would not have had a lot of time in which to react. Potentially that could have been a problem, and, for that reason, we tried to build a lot more flexibility into the car so that if difficulties did arise we could rectify them as quickly and as easily as possible."
Aerodynamically the car has been exclusively developed at McLaren's new state-of-the-art wind tunnel facility, already in operation at Paragon, the TAG McLaren Group's new headquarters which is currently nearing completion near Woking. Added Newey; "The new tunnel has allowed us to do certain things that we couldn't do in the previous facility, and from that point of view it is definitely a step forward for us."
McLaren Chairman Ron Dennis said he believed that the new MP4/17 reflected some ambitious and innovative technical thinking on the part of the team. "We believe there are many elements which we can assess to quantify that this car will be quicker than last year's car, but at the end of the day how much quicker we can't yet say."
Norbert Haug added that he was confident that the new Mercedes V10 was a step in the right direction and cautioned F1 observers not to get to carried away with rumors about the power output gap separating it from other leading runners.
"Our new engine is very compact and we have increased its operating speed to over 18,000rpm," he said. "We don't talk details about the output, but it is not true to think that we are 50bhp down (on the best). The new engine still needs a bit of work but we are confident and I am certainly expecting a lot from this engine."